Articles Index/Weight Pulling
Posted 01/19/09
WEIGHT PULLING OPENS NEW AVENUES OF PERFORMANCE FOR NORFOLKS
Beacon (Flurries Bayside Beacon, ME, OA, OAJ, CG) and I attended our first Fun Weight Pull in May of this year. As we walked to the registration table we passed Pit Bull Terriers, Australian Shepherds, English Bulldogs, Siberian Huskies, Labrador Retrievers, Boxers, Akitas and a Rottweiler. And I thought, "What am I doing here with this little dog?" Beacon, however, had no such thoughts. She didn't care that she was the smallest dog in town. Her tail was just a-wagging and she was ready for whatever I asked her to do.
Why weight pulling? Why not? Some years ago, Lorece Newton-Moore (WA), gave her Norfolk Terrier a chance to try weight pulling and Landmark Whistling Dixie (Newton) became the first Norfolk to earn a Weight Pulling title awarded through the United Kennel Club. I have long thought of trying this dog event so when I saw a flyer at my vet's office announcing a Fun Pull in my area, I decided to give it a try.
After registering, Beacon was weighed in at 12 pounds and fitted with a harness. Actually a harness was tied on as they were all too big! The weight pull instructor, Lisa Mawson, gave a briefing of the rules and what to expect. Our first pull was the empty wheeled cart weighting 68 pounds. Beacon walked away with it ... of course the chicken I was luring her with helped a tad! As each round started, a 25 pound weight was added to the cart and every dog had its turn. Beacon's final pull was 188 pounds -- 15.6 times her body weight and she placed first in her weight division (under 20 pounds) and first over all! I was shocked, as was everyone else. Needless to say, we had fun and enjoyed watching all the dogs and their handlers having a great time.
Beacon now has her own harness that was made to her measurements and we are taking instruction from Lisa at her training facility, Canine Culture. We are enjoying the training and plan to compete in our first `real' pull this fall.
For practice Beacon pulls the trash out to the road every week and hauls my lawn trimmings to the compost pile and her tail is still a-wagging!
If you want to find out more about weight pulling with dogs here are some good sources of information: UKCdogs.com, IWPA.net, Alaskandream.org.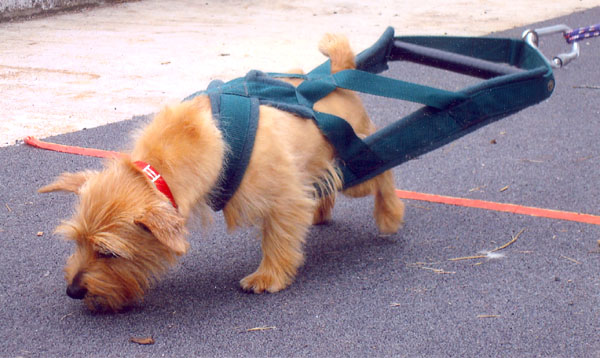 Beacon leans into her harness. This is a strength sport where the girls can compete along side the boys no problem!
Peggy Metcalf
Flurries Norfolk Terriers
ANTIC, September, 2008
Back to Articles Index
Back to Home Page
Copyright © 2009 by ANTA. All rights reserved