Articles Index/Earthdog
Revised 07/06/98
ROSIE ACHIEVES HIGH HONORS BY GOING DOWN UNDER!
Ch. Tylwyth Sinful Night, JE, known to her friends as Rosie, is believed to be the first Norfolk to qualify for her Senior Earthdog title. She earned her qualifying scores at trials sponsored by the Beanfield Earthdog Club, the Border Terrier Club of America, and the Hudson Valley Daschund Association, all held in June. Bred by Mary Fine and owned by Henrietta and Robert Lachman, Rosie is now in training for the Master Earthdog title . . with a small detour for maternal duties along the way.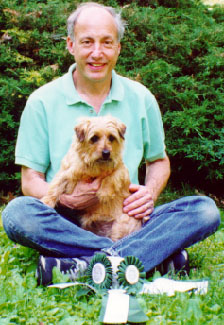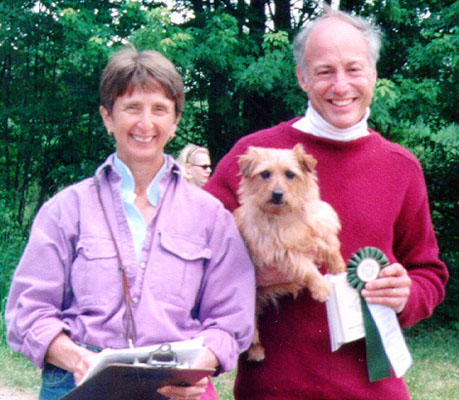 Ch. Tylvyth's Sinful Night, ME "Rosie"
At Crosswicks, NJ, June, 7, 1998, judge Teddy Moritz with Robert and Rosie on the occasion of her final qualifying score making her a Master Earthdog (subject to AKC verification).

Editor's Note: Rosie is believed to be the first Norfolk in history to achieve the AKC Master Earthdog title. Congratulations, co-owners Robert and Henrietta Lachman.
ANTIC, September 1997
Back to Articles Index
Back to Home Page
Copyright © 1997, 1998 by ANTA. All rights reserved