Articles Index/Profiles
Posted 07/27/06
Profiles: An Introduction to ANTA's Membership . . .
SANDY HEALY
ANTA is blessed with an active and far flung membership. We have members and ANTIC subscribers in over 30 states and nearly a dozen foreign countries. While some individuals are familiar to us because they are featured in articles or are pictured at events, other people find it difficult to attend functions due to the constraints of time or distance.
In an effort to bring us together, and to provide some unique insights, we are beginning an occasional series of profiles designed to connect our members in far flung places.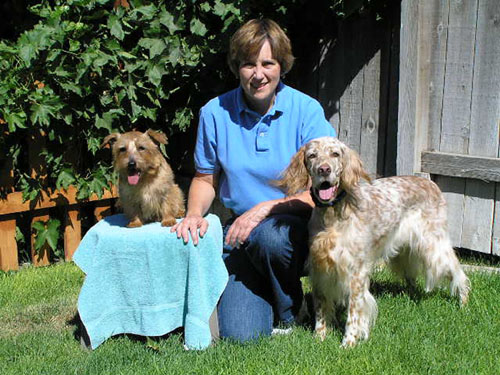 Sandra, Clipper and Summer
Sandra Healy is a westerner and ANTA's only resident of Idaho. She agreed to tell ANTA a bit about herself and her dogs.
ANTIC: Will you give us a little information about yourself?
SH: I live in Meridian, ID, a suburb of Boise (the capital city). I work as a Financial Specialist Sr. for the Idaho Transportation Department. I presently have two dogs: Clipper, my Norfolk Terrier, and Summer, my English Setter.
I am originally from Glastonbury, CT and graduated from Southern Connecticut State University where I majored in Therapeutic Recreation. I worked in psychiatric hospitals in Connecticut, and then moved to Pocatello, Idaho in 1989 for a job. After five years, the psychiatric hospital closed down, and I decided to make a major career change.
I went to work for Idaho State University and started taking graduate classes for an MBA. It was a promotion within the State system that brought me to the Boise area, where I have been for the last eight years. I didn't finish the MBA but went on to take several accounting courses at Boise State University for career advancement within the State system.
ANTIC: What made you decide to get a Norfolk?
SH: I started looking for a "small dog" because I wanted another conformation dog but felt that three large dogs were too much for my house. I decided on a terrier because a terrier would be able to hold its own against a couple of large dogs. I watched several tapes of Westminster and concentrated on the Terrier Group. The little Norfolk caught my eye because of the "cute" drop ears. I then researched the breed a little further.
I wrote a letter to Ann Rogers Clark because I knew she had Norfolks and asked if she would sell me a show quality Norfolk. I told her about my English Setters and a little about myself. In 1997 I
received a call from Mrs. Clark saying that she had an eight month old Norfolk that could be shown if I was interested. That's when Clipper came into my life!
I arranged to meet Mrs. Clark at a show in Portland, OR where she was going to be judging. She was very gracious, helped me pick out some grooming equipment and gave me a little lesson in hand stripping Clipper's coat. I learned more about stripping from a local handler who had Norwich Terriers and then showed Clipper at a local AKC show.
Our only competition was a Special, so I decided to send Clipper with a handler for awhile. I had to look to Washington, Colorado and California to find any competition and eventually decided that Clipper wasn't really excited enough about showing.
ANTIC: What are your favorite dog-related activities?
SH: I enjoy being active with my dogs and giving them something to do. I have competed in conformation, obedience and agility, and am now learning rally. Agility is my favorite sport. So, you ask, why do I have a Norfolk and an English Setter a couple of breeds not exactly known for their ability to burn up an agility course? I chose my breeds for their wonderful personalities and loving connections with their owners. I compete because I enjoy it and the dogs enjoy it. And, if we're not having fun, we stop and try something different.
I started in agility with Clipper because he wasn't having fun in conformation. I also hoped that agility would build his confidence and get him more excited and maybe he'd like conformation after being away from it. Well, we just kept going with agility because he really seemed to be having fun and he enjoyed the obstacles. He also enjoyed visiting judges and ring stewards and anything else that could possibly distract him.
If dogs could get points for cuteness, Clipper would have a championship in that. He once took the first jump, ran to the judge, and pushed his nose under her skirt! How embarrassing, but how the crowd loved it. The judge was very good and didn't move.
ANTIC: "Back East" we're pretty spoiled since we seldom have to travel more than a couple of hours to get to an event. What's it like to compete in Idaho?
SH: I very seldom see Norfolks or English Setters at shows, especially local shows. People in this area travel to Oregon, Washington, Utah, Colorado and California. You would have to be willing to travel a day or two to find majors, or fly to a show farther away. A "close" show is anywhere from two to five hours away in Eastern Idaho. Utah shows are four to five hours away. Or, we can head toward Oregon or Washington for an eight to 12 hour drive. Colorado takes a couple of days or about 14 "plus" hours straight driving. Needless to say, all this traveling makes showing an expensive hobby. But despite all the travel we have a very active kennel club and other specialty clubs in this area, and a very strong group of dog show enthusiasts. Some people even travel to one, two or three shows a month in the summer.
ANTIC: When you're not involved with your dogs, do you have any other interests or hobbies?
SH: In my spare time (if I have any) I enjoy gardening and since I bought a new house last fall with a back yard that hasn't a tree or bush or flower in it, I will have lots to do this summer. Or I may be spending the summer raising one of Summer's puppies. (Ed. Note: On May 10th, Summer whelped her first litter of puppies just in time for Mother's Day!)
Somehow, I don't really have a lot of spare time and I have decided that this is the year of the dog and I intend to do lots of "doggie stuff".
Now, if only I would meet a man who would love the doggie stuff as much as me, wouldn't life be great!
ANTIC, June, 2006
Back to Articles Index
Back to Home Page
Copyright © 2006 by ANTA. All rights reserved