Articles Index/Profiles
Posted 07/27/06
Profiles: An Introduction to ANTA's Membership . . .
CELINE JOIRIS
ANTA is blessed with an active and far flung membership. We have members and ANTIC subscribers in over 30 states and nearly a dozen foreign countries. While some individuals are familiar to us because they are featured in articles or are pictured at events, other people find it difficult to attend functions due to the constraints of time or distance.
In an effort to bring us together, and to provide some unique insights, we are beginning an occasional series of profiles designed to connect our members in far flung places.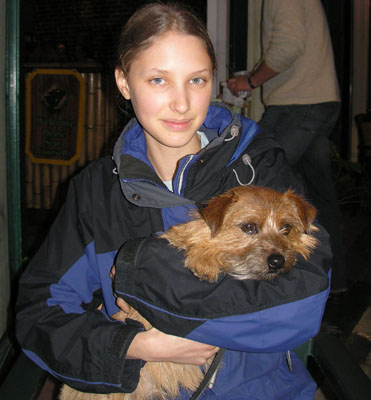 Celine and Fleet
This profile features a teenager from New York City, who has given her heart to Norfolks, but also embraces (literally) other breeds as well. Celine Joiris is lives in the heart of Norfolk territory.
ANTIC: Will you give us some of the basics?
CJ: I am 16 and live in New York City with my mother, my brother, and our many animals. I own a 1½ year old Norfolk named Fleet (Springcove Voyager) and have co-ownership of Stamp the Wonder dog.
ANTIC: You are a "junior" in dog show parlance, competing in breed, agility, and earthdog events. How did you get started competing?
CJ: As my mom is a professional dog training instructor, I was exposed to the dog world from an early age, even though she took time off competing when my brother and I were young.
From infancy I went with her to the competitive obedience classes she taught, and when I was maybe seven or so I started to work with our English Springer, Wystan, in my mom's class. She had already trained him and at first Wystan, who at that point outweighed me, was kind of just working with me because my mom told him to. After a while, though, we began to work pretty well together. When I was about nine, I started wanting to compete with the dogs, and somehow I segued into Jr. Showmanship. As neither of the two dogs we had at that point was quite the right fit for me as a Juniors dog, I started working with a Papillion named Mr. Sandman, who belonged to one of my mom's students. Went with him to handling class for a little less than a year, I think, and then entered my first show.
A month or two after I started showing in Juniors, Wystan died suddenly, and shortly thereafter we purchased Stamp. As I was fairly active in dogs then, my mom and I decided to share Stamp and we thought we'd try some new things with him.
ANTIC: Do you enjoy a particular type of competition more than others?
CJ: I am most active in agility, and Fleet is well suited to it, but really I don't differentiate much between various sports or even between that and training for everyday life or for film. The actual training is all pretty similar, and as far as competing, it all involves getting up at dawn and coming home exhausted, having spent quality time with your dog, right? I just like working with my dogs in general.
ANTIC: Stamp was the first Norfolk acquired by your family. When it came time for you to choose "a dog of your own" you selected another Norfolk why?
CJ: I debated for over a year between a Norfolk and a Whippet. Until last Fall we had a Whippet, Chance, who was actually older than I, so I was used to the breed, and I and everyone in my family love Whippets. We had owned Stamp for a while and not only adored him, of course, but quite liked the breed in general.
I like the temperament of Norfolks, especially gamey ones, and I like the way they look, and liked the breed club. I knew that both Norfolks and Whippets are good dogs for agility, which I had gotten very into. In the end I decided on a Norfolk because they are smaller and thus easier to travel with, and then we spent about six months looking for a dog for me. (I was very fussy about exactly what kind of dog I wanted.)
Finally after a few false starts, I got news from Marian Shaw that her bitch Noel had just had a single puppy that seemed to meet all my requirements. After Annie Clark saw him and said he'd be a show pup, I was set.
ANTIC: When you are not competing with or training yours dogs, what do you like to do for fun?
CJ: Working with my dogs is probably my purest form of fun, as well as playing, walking, and cuddling with them. That said, everything I do I do because I enjoy it. Right now that includes practicing tai chi, learning French, studying biology, reading, modeling, and spending time with my family and friends. Until recently, when I got too busy with work, I was doing volunteer work for the War Resisters League. I also love to travel, and one of the highlights of recent years has been traveling to Florida for the AKC agility nationals with my mom, my brother, and the dogs.
ANTIC: Speaking of work will you tell us a little about your modeling experience in Japan?
CJ: In general I like going to Japan because, as I said, I like to travel. This being my second trip (Ed. Note: Celine was in Japan when this interview was conducted) it is slightly less exciting as in the five weeks or so that I was here last time I saw most of Tokyo's main attractions. I think the quality of the work in Japan tends to be pretty high, and was very happy with the pictures produced by my trip last year, so I am pleased to be back. I do get rather homesick and lonely when I don't have much to do, and of course I miss having my dog, but all in all I am glad to be here.
ANTIC: Any thoughts about future career plans?
CJ: After spending years making plans only to change them when something more interesting comes up, I've given up planning. I'll probably continue modeling for several years and then I'll likely go to college. I'm interested in psychology, neuroscience, human rights, ethics, education and politics, give or take a little, and will probably find more things to be interested in along the way.
ANTIC: Do you have any words of wisdom for other young people hoping to get started "in dogs"?
CJ: The only words I can think of, which aren't terribly wise, are to get a dog and get started. If you can't own a dog, borrow one. There are always people who will help you out. One thing you do have to be careful about though, especially in agility, is to pick your first instructor carefully. Many, many people have their training set back by starting with the first person they find. You might happen to find someone terrific, but take a careful look at all your options before deciding on an instructor.
Try to find someone whose dogs' work you admire and whom you will get along with enough to learn from. Expect it to be hard work and realize that you won't have fun 100% of the time (such as when you're freezing and covered with mud and running late), and overall you'll have a great time.
ANTIC, June, 2006
Back to Articles Index
Back to Home Page
Copyright © 2006 by ANTA. All rights reserved