ArticlesIndex/Norfolk Tales
Revised 09/01/02
NORFOLKS IN ALASKA
The following is excerpted from letters to ANTA by Reagan Russey of Anchorage, Alaska.
Dateline July 20, 2000
I was happy to find the amount of information available on the ANTA Web Site. I have been a Norfolk owner since 1991. I got my first one after having studied different breeds for 2 years. I chose the Norfolk and the Norwich as meeting all the criteria I had for my new "son" and was able to able to find a Norfolk puppy. The choice couldn't have been better and Lightning Ridge Cactus Jack was with me 24 hours a day for the rest of his life. His life was a true adventure in the wilds of Alaska. Whether hunting, fishing or just hanging out at our cabin in the wilderness, Jack was always there. His first hand encounters with grizzly and black bears, moose, caribou, etc. are too numerous to mention. He was one happy little dog. He logged more hours in the air in my plane than many pilots ever get. The following photos give some idea of Jack's life in Alaska.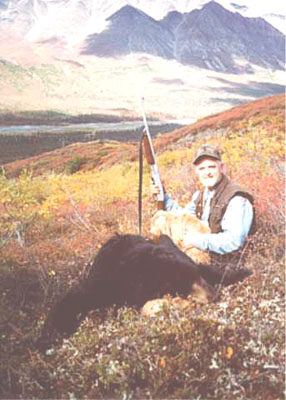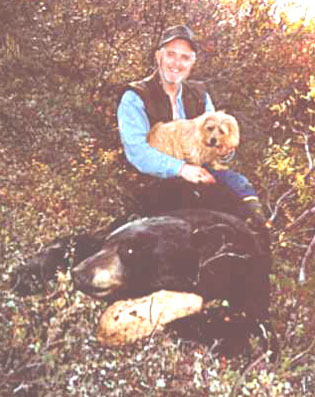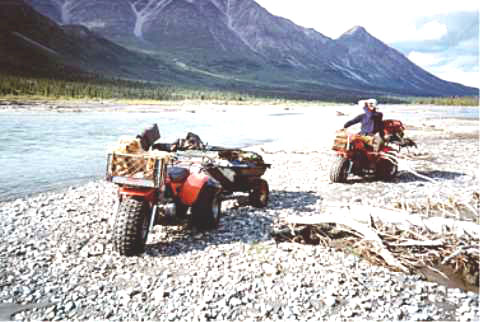 Unfortunately I lost Jack to MVD February 18, 2000. His death was a complete shock and surprise. He was 8 years and 11 months. Much too young!
I'm very happy to see the work that ANTA is supporting on MVD. I wish I could have been able to provide input to the MVD survey, but at least the problem is being studied -- that's the important thing.
The good news is that I was able to adopt an 8 week old Norfolk in June. Landmark True Grits "Ben" is my new son, flying up first class on Alaska Airlines from Oregon. Ben is black and tan and a joy to behold. He has a bed under my desk at my office and, like Jack, has never met a stranger. He loves to fly or ride in the car. Ben's up for anything.
I'll try to find some photos of Jack on Mt. McKinley with me. During the spring and summer months, I sometimes fly with air taxis out of Talkeetna, flying mountain climbers and "flight-seeing" groups up on Mt. McKinley -- landing on skies. Some of my clients would insist that Jack go with us, and of course, he was ready to go. If he didn't get to go along, he would be at the plane to tell me "bye" and would meet me right at my plane door to welcome me home when he saw me taxing in. As Norfolks are low to the ground, I never had to worry about him being around a prop as I would with larger dogs.
Jack would also help me with the Iditarod Sled Dog Race from Anchorage to Nome each year (1150 miles). I've been an Iditarod Air Force Pilot for about 15 years and Jack would go out with me and other Iditarod pilots to put in the remote check points a couple of weeks before the race started. I never took him along during the actual running of the race to avoid his being exposed to dogs that were dropped from the race due to illness. I never would expose him to sick dogs -- always better safe than sorry.
I have had as many as 21 dropped sled dogs and a vet and all his gear in my plane at the same time. An airplane is a pickup truck in Alaska.

Dateline December 5, 2000
My new Norfolk, Ben, is now 8 months old and typical Norfolk. He is happy with life and never meets a stranger. In August and September I did a lot of work on my airplane and of course Ben was with me as he always is. If I couldn't find a tool that I had been using I knew where to look. Ben will help himself to just about anything and take it off to play with it. I usually found him setting out in front of the hangar playing with his latest acquisition. So far he has met several moose, caribou and porcupines. He thinks the new winter snow was just put here for him to play in.
Dateline September 1, 2002
The picture below is of Ben taken on one of my three wheelers. He always wants to sit on it ... even if we are not going somewhere. He jumps up there by himself to keep an eye on everything I'm doing. This was taken out at my cabin, which is about 150 miles west of Anchorage. The only way to get there is in our airplane. Ben loves to fly.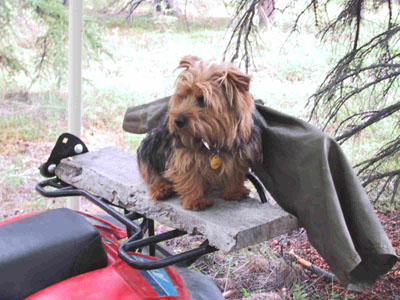 Northern Lights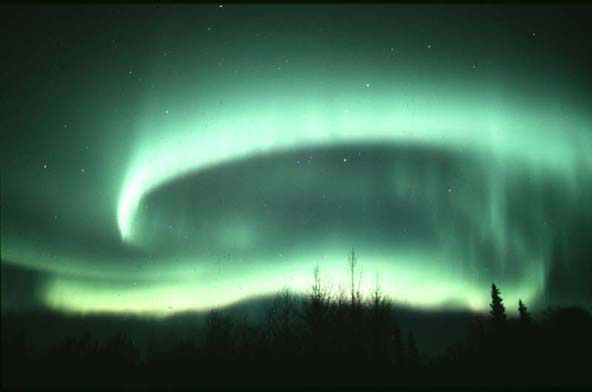 Back to Articles Index
Back to Home Page
Copyright © 2000-2002 by ANTA. All rights reserved