Articles Index/Dock Diving
Posted 09/15/10
Miss Bingley's Excellent
Adventure ... As Told to Her Owner Beth Kravetz
HOLY @#&!
My exact thoughts upon impact with the frigid waters that cold and grey October morning. As the very first contestant of the National Dock Diving Championships, held in Mason, Ohio, Friday, October 16 through Sunday, October 18, little did I know of the icy abyss that was to greet me on my first jump. Whoever coined the phrase, "ignorance is bliss" must definitely have had this event in mind.
What had gotten me to this point?
My insane love of water, that's what. Even as a little puppy, I loved the water. Agility ... it's okay and Earthdog - not so much. And, so, last fall my human, Beth, discovered "dock diving" and as they say, the rest is history.
We went to a dock diving practice day hosted by a local dock diving club in Maryland, at an idyllically named site called "The Lilypons" and, no surprise, it is a beautiful place with lily ponds. Once such pond is built with a regulation DockDogs dock - 40 feet long and 8 feet wide, 2 feet ABOVE water level. As an experienced pool-side diver, with a little prodding I was jumping into the pond after my beloved rubber chicken. My early jumps (measured from where the base of my tail hits the water) were only 2 feet but it was enough to convince Beth that I loved it and perhaps had a future in the sport!
A Star is Born
My first competition followed shortly thereafter in November, 2008. And, lo and behold, I had my first qualifying jump into the pool - a whopping 3 feet 9 inches enough to land me in the Lap Dog finals!
The Dock Dog rules are a bit confusing and I'm not sure I understand them completely yet. The original "dock diving" is called "Big Air" and it is what I do. Big Air means you jump off the dock and, to get as far as you can before landing in the water, you get "big air" underneath you. So, you are not only jumping out and away from the dock, but the more you can jump up and away, the farther you go. I myself am pretty much a straight out jumper, but I am improving.
There are two other events ... Speed Retrieve where a bumper is placed at the end of the pool or pond (at about 35 feet away from the end of the dock) and the handler releases the dog 20 feet from the end. The dog that gets to the bumper fastest wins. The other is Extreme Vertical, where the bumper is placed above the dog and the dog has to jump up and remove the bumper from its holder. The height starts at about five feet. I don't do either of these!
Each event has different divisions, depending on how far (fast, high) you jump. In order to encourage us little dogs, there is also a "Lap Dog"" division for all three events. A lap dog is defined as a dog 17" at the withers or less. I gotta tell you, 17" is one big dog to me ... there are Australian Shepherds, Boxers and Labrador mixes in the Lap Dog division.
But I digress ...
At my first event I made the Lap Dog finals and jumped an unbelievable 3'10". So I got myself two qualifying legs toward a regional title. I was hooked!
I did not have any chances to compete until the early spring, but from April through August, I entered several regional and national events in Texas and the Mid-Atlantic states. My jumps got better (a personal best of 5'7" into a wonderful lake in Hanover, PA) and I earned BOTH a National and a Regional Novice Big Air title. And that's how I wound up at the National DockDog Championships.
I finished the DockDog season ranked 11 out of 11 Lap Dogs; 408 of 409 International Big Air; 303 out of 304 National Big Air; and 304 out of 310 Regional Big Air. We beat out a Border Collie and a Labrador Retriever for that!
I am not the first or only Norfolk Terrier to dock dive. My close friend, Noel (owned and operated by Marion Shaw, DVM, in Queenstown, MD) got a regional title in 2008 and has jumped a whopping eight feet. And then there is Jumpin' Jake of Parma, OH (human companion Janet Latterner) who also got a National Big Air Title this year and who has a 5'9" personal best and who finished the year at #10. Who can complain about being "inched out" by another Norfolk? I have yet to meet Jake, but we have become pen (paw?) pals over the fast few months.
National Championships
As part of the National Championships, DockDogs sponsored a Jump-a-Thon to raise funds for Chase Away K-9 Cancer. I got 36 sponsors and raised just under $1500 in pledges based on my first day's personal best into the frozen pool of horror of (ta-daaa, drumroll please) 4'7"!!!! I came in 30'th" place out of 40 dogs. Not too shabby!
My goals for next year are to reach a new personal best of 6 feet (I'm sure I can do it) ... and ... to not be fooled into jumping into cold, cold water again. (Next year's Nationals are in Dubuque in October ... someone ought to tell those DockDogs folks about Houston or Phoenix - or Palm Springs!)

Note from Beth: To find out more about dock diving, go to www.dockdogs.com. If your Norfolk likes water and will jump in to retrieve a toy, give it a try. (Just find a warm place to do it.)
ANTIC, December, 2009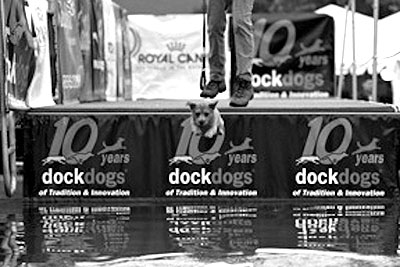 Miss Bingley (center ... just in front of the middle 'dock') jumps into the water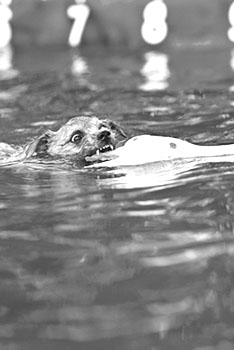 Miss Bingley retrieves her rubber ducky ... all the while raising money for canine cancer research.
Owner Beth Kravitz can be justifiably proud of her 'OWN' (One Wet Norfolk !) dock diving dog.

ANTIC, March, 2010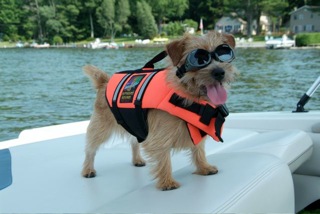 (Ed McCullough Photo)
Kaia says, "Boating? Swimming? Did someone mention dock diving? Who says Norfolks can't swim? Let's go before I lick off the sunscreen."
ANTIC, June, 2010
Back to Articles Index
Back to Home Page
Copyright © 2010 by ANTA. All rights reserved