Articles Index/Lure Coursing
Lure Coursing
Revised 01/02/03
LURE COURSING: DESCRIPTION AND INTRODUCTION
Lure Coursing is a humane sport that is derived from attempts to imitate the coursing of a rabbit or hare by sighthounds. The dogs chase an artificial lure, usually a white kitchen garbage bag, that is attached to a line strung around pulleys staked to the ground and pulled by a mechanical device at speeds in up to of 50 mph. The course can extend from a few hundred feet to several hundred yards, depending on the endurance of the animals involved and space available. An important facet of this sport is that the dogs have FUN; lots of FUN!
The lure machine is typically an automotive starter motor mounted on a stand with a drive pulley for the line and hand-held push button control for triggering the motor. The machine is powered by an automotive type battery (or batteries) and may be assisted by a battery charger or connection to a running automobile or tracker. Additionally, the machine may be modified for operation in both forward and reverse directions and for durability. Injoy Lure Coursing Equipment offers a line of suitable products.
A word about animal safety. Chasing the lure is strenuous exercise. As with humans, canine couch potatoes should not overdue it. Plenty of water must be available for the dogs at all times and each participant must monitor his/her own dog to avoid over exertion. If the weather is humid, having drinking water is not enough; there must be provision to dunk or hose the dogs.
DISCLAIMER: Reference and links to vendors are for the reader's convenience. ANTA does not endorse specific products or vendors.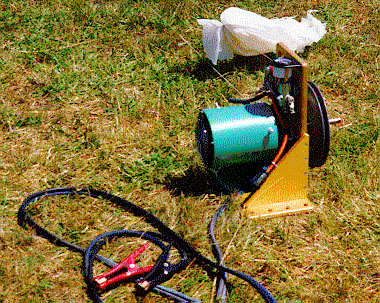 Example of a Lure Machine
Back to Articles Index
Back to Home Page