Articles Index/Rescue
Created 11/17/98
THE RESCUE OF EDGAR ...
A NORFOLK TALE WITH A HAPPY ENDING
When Lucy, our Lab and Sheltie mix, died in March after 14 years and 11 months in our home, it was a sad and lonely time for my husband, daughter and me. I soon realized that I was not happy without a dog in our home. A few years ago I had read about Norfolk Terriers in Dog Fancy magazine and thought I would like to own one someday.
After missing Lucy for awhile, I decided to write for information on the breed. We received the pamphlets and list of breeders and I bought a book at the bookstore, but after talking to a breeder and finding out there is usually a waiting list, I started to think about how I had always said when Lucy died I would get a rescue dog. I wrote to Susan Ely (NNTC rescue coordinator) and thought I probably would not hear from her for quite some time.
One day while at school, my daughter called me and said she had heard from Sue and there was a Norfolk available for rescue in Sharon, CT. Was I interested? You bet!!! I was so excited, I could hardly wait to get home. Amy Harney had heard about a Norfolk at the dog pound in Sharon and had rescued him, and then called Sue. After talking back and forth with Amy, she agreed to meet us in Hartford that evening. As soon as I saw Edgar, I fell in love! I held out my arms and he came to me and snuggled his little head into my neck, and he was mine! My husband and daughter like him also, so we took him home that evening.
The first night was difficult. Edgar cried all the way home and trembled and shook. He cried most of the night and was really not interested in his bed or toys. The next day when I returned from school, there were no accidents anywhere, so we gave him free rein of the house. That night he slept with us, right between us, and has remained there every night.
Edgar has brightened our home and our lives. We believe he has been abused, probably by a man, as well as being abandoned. It took him about eight to ten weeks to really bond with my husband and develop trust, but now they are buddies and "Daddy" helps with his walks and takes Edgar for rides. Edgar was very fearful of riding in the car at first, but many short rides have shown him he will always be returned home safely.
We are very grateful to Amy and Sue for bringing Edgar into our lives. He is such a happy little dog now, so different from the trembling little guy who came to us in April.
Carole Kerr
ANTIC, September, 1998
Ed. Note: Amy Harney went to extraordinary lengths to find the breeder and/or owner of this little long-tail. She called many ANTA members throughout Connecticut to see if they could recognize this little fellow ... and she didn't give up until she and Sue Ely had him re-homed. Way to go, Amy!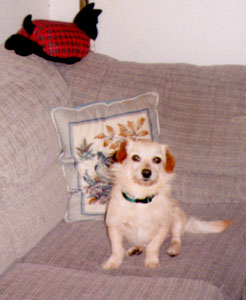 Back to Articles Index
Back to Home Page
Copyright © 1998 by ANTA. All rights reserved