Articles Index/Norfolk Tales
Posted 11/28/06
JUNE 5TH -- A DAY TO REMEMBER IN MYSTIC . . .
What was described as just a short stop to see her own Allright Biscuit by Dr. Frauke Hinsch and her traveling companion Jutta Langefeld, both from Germany and in this country on another mission, turned into a wonderful full day of fun and companionship.
With Heidi Evans in her role of limo service from the Providence airport, we eventually numbered twelve all ANTA members, save Jutta who we made an honorary member for the day.
We had a grooming session by Frauke and boy did everyone look smart afterwards! A critiquing session with all dogs present, including my boy from Sweden, and a big buying spree at the ANTA store.
Lunch was provided again by our limo service and the gathering continued on into the afternoon. No one seemed anxious to leave and of course cameras came out to record the event.
We were able to meet two new ANTA members from Florida, our own artist friend from Kentucky, and Toni Harrold from South Carolina, who I have had many telephone conversations with, but had never met.
Some of the crew visited our very complete local dog store and a bead store ... are there beaded collars in the future? ... before heading back to Providence on their original errand.
Spontaneous happenings like this one are so great because they are not structured and just seem to roll along. I hope this is not the last time ANTA members can come together in this manner.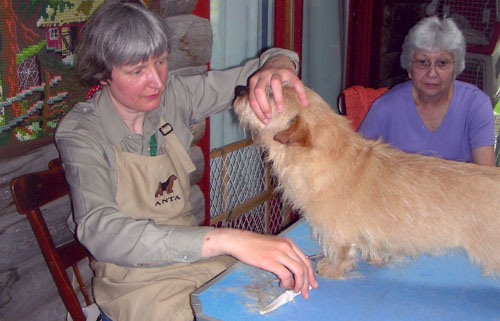 Frauke lends her grooming magic to one of the canine attendees.
Jane Anderson
ANTIC, September, 2006

Back to Articles Index
Back to Home Page
Copyright © 2006 by ANTA. All rights reserved