Articles Index/Therapy Dog
Posted 01/19/09
JAKE EXCELS AS PET PARTNER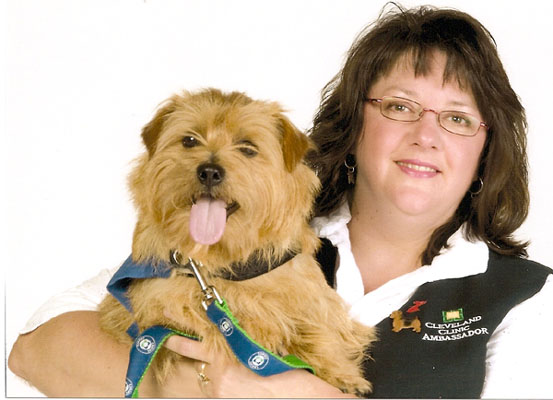 Cleveland Clinic Photo
Jake and Janet make a difference in the lives of hospitalized patients.
"Hi, my name is AM/CN Ch. Domby's Jacob Marley, JE ... but you can call me Jake. I want to tell you about the work I do every week at the hospital. You see, I am a certified Pet Partner at the Cleveland Clinic in Cleveland, Ohio. My human partner, Janet, works at the Clinic and she signed us up for the program. Some folks think that terriers are not cut out for Pet Therapy (PT) work, but I want to tell you that we can do it just as well, if not better, than some of those other dogs. Besides, my looks and personality are always a big hit with the patients and their families and the employees just love the visits."
Pet Therapy work is intense and requires our team to respect the wishes of patients and families when we visit weekly. We work on a cancer floor and an orthopedic floor, so the patients that we see vary in what they need. Our visits can last a few minutes or a half hour; it depends on what the patient wants. We work about two hours each week. I do get tuckered out after visiting my patients."
Pet Therapy work is so rewarding! I make patients, families, and visitors smile every time I meet them. My visits provide our patients with a distraction from their illness, their pain, and their loneliness. I sit with them on their hospital beds while my partner guides me."
Patients pet me and, if they want, they get licks and paws. We have some terrific brags from our visits, like this -- I walked into the room of a very sick, elderly lady who had not spoken to her daughter or the nurses since her arrival at the hospital four or five days earlier. (She was severely depressed and in pain.) When she saw me, she smiled, sat up, and said, "Oh my, what a lovely dog, can I please pet him?" The room was silent and all of the nurses and her daughter swelled up with tears. She got lots of licks and paws and kept on talking the rest of the day. I just love it when the patients respond to the therapy."
Although I waited until I was four years old to get started, the timing was just right. I am a very active Norfolk Terrier. I worked the show circuit for a while, earned a beginning earthdog title and am still working on my senior title. I jump off docks for "big air" with the Buckeye Dock Dogs and I do lots of other things. So you see, an active, working terrier can be a successful, loving, caring Pet Therapy dog!"
My partner, Janet, wants to encourage you all to look into getting started in work as a Pet Partners team with your dog. It is such a wonderful way to share the love and joy of a Norfolk with others. We educate them on dogs, on our breed, and provide that much needed distraction for the patients. All you need to do is have basic obedience, great socialization, and certification from either the Delta Society or Therapy Dogs International. We cannot say enough about how wonderful working as a Pet Partners team is, for us and for the patients we visit. Don't wait; work on it now. Check out these websites for more information."
deltasociety.com
tdi-dog.org
Jake's article was submitted by his human partner Janet Latterner
ANTIC, September, 2008
Back to Articles Index
Back to Home Page
Copyright © 2009 by ANTA. All rights reserved