Articles Index/Norfolk Tales
Posted 02/01/09
IT WOULDN'T BE SUMMER IN NH WITHOUT A NORFOLK PARTY
If it's August, the party must be in Elkins, NH, home of Sheila Robbins' Todmorden Norfolk Terriers. This annual bash is a reunion, of sorts, as Sheila welcomes back extended Todmorden family and friends to kick back, enjoy a cooling swim in the pond, and generally enjoy the lazy, hazy days of mid-Summer.
All the four-legged guests get toys as gifts and ice cream as a special treat. Most of them sleep all the next day, recovering from their adventures. Perhaps their owners do, too.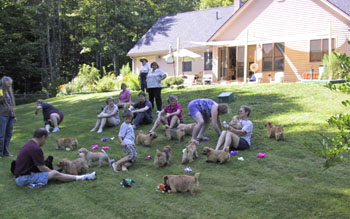 A toy toss is always part of the fun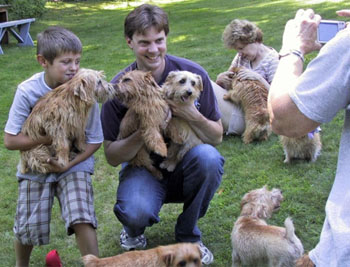 Eric and Tom had their hands full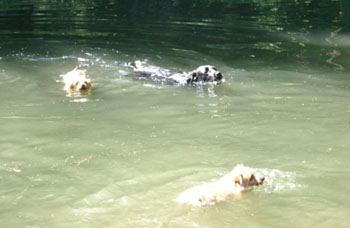 It's always nice to have a water dog handy in case a Norfolk needs retrieving.

ANTIC, December, 2008
Back to Articles Index
Back to Home Page
Copyright © 2009 by ANTA. All rights reserved