Article Index/Norfolks Around the Globe
Posted 08/01/99
TRAVELS WITH CARL AND FAITH ... INTO AUSTRALIA
During the month of February, Faith and I visited Australia. It was my first visit there but Faith had lived in Western Australia for three years, some 35 years ago.
We flew to Sydney and journeyed to Canberra, the Capitol of Australia, where Norfolk breeders Liz Hindley and Michael Bungay provided us with a warm welcome and exceptional hospitality for three days and nights. We also had the privilege of meeting Liz's mother, Beryl.
Liz began breeding Norfolks several years ago and, judging by the look of the six or seven puppies she had, is well on the way to producing some beautiful and well-structured specimens. Of course this is not difficult to understand when you consider she has been advised and provided with some nice stock from noted breeder, England's Joy Taylor of Nanfan fame.
Liz seems to be the leader of our breed in Australia and we were lucky enough to meet Sally Boaster in Perth on the other side of the continent who is one of the leading breeders of Silky Terriers in Australia and has just begun with Norfolks.
We also spoke by phone to Brian Money who has a ranch outside of Perth and who spoke with great pride of his Norfolk "Toffee" who often accompanied him on his visits to care for his herd of 300 cattle. He claims Toffee was not hindered by heat, rain, dirt or mud as he tended his herd of cattle.
We understand there may be as many as 100 Norfolks on the continent and with the leadership of Liz Hindley, I have no doubt the Norfolk Terrier has a bright future in Australia.
Carl Schrader
ANTIC, June, 1999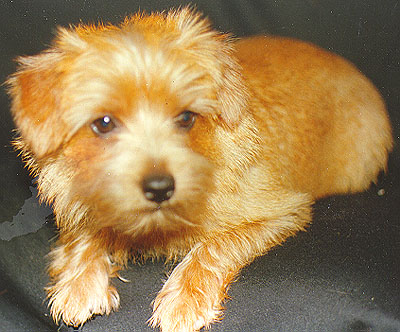 Toffee - a new version of Australian Cattle Dog
Back to Article Index
Back to Home Page
Copyright © 1999 by ANTA. All rights reserved