Articles Index/In One End and Out the Other … But Not Always
Posted 02/01/11
In One End and Out the Other … But Not Always
By Cathie Heimbach
Being the owner of several Norfolks over the past 20+ years, I became accustomed to stuffed animals and rubber toys being eviscerated quickly and squeakers being removed in minutes.
To the best of my knowledge, nothing was ever swallowed. The worst thing to happen would be a carpet of white stuffing spread over a large area until … Ceaira, our home-bred, pretty little red 4 ½ year old Norfolk came along.
Ceaira, I discovered, did swallow several pieces of various rubber toys. She seemed none the worse for it, and on learning what she was doing I banished all but the soft toys.
I then removed their squeakers, mumbling while sewing them back up that children's toys with such a dangerous potential would be taken off the market.
Ceaira was fine … or so I thought. She did have a small amount of vomit in her crate on many mornings, but then so did her father. The empty stomach syndrome was cured with several kibbles at bedtime. When she started to become nauseous in the afternoons, I introduced her to lunches and the problem seemed solved. Wrong!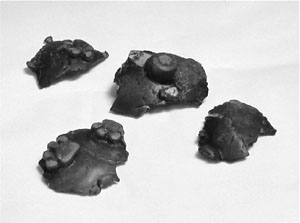 Rubber pieces removed from Ceaira's stomach.
When one morning she had bloody vomit in her crate, was not hungry, and clearly didn't feel well I rushed her to the vet where an x-ray, sent out to a radiological specialist, showed 'foreign matter' in her stomach and intestine.
Immediate surgery was necessary. Four pieces of petrified rubber from toys, 1½ to 2 inches, were removed. One piece with a sharp point on an end was within hours of puncturing her intestine.
When Ceaira's stomach had been empty, the pieces moved around and caused her nausea. When she had food in her tummy, the pieces were cushioned. Thankfully, I acted quickly, had a vet who recognized the danger, and a skillful surgeon who cared for Ceaira a great deal.
She is all better and eating just two meals a day now. She has served as a warning for me and those I know with dogs that only dog food and treats are to be swallowed. I am now constantly vigilant with our new 10-month-old Norfolk, Emma, who like Ceaira is a chewer of anything, a toy destroyer, and a swallower of 'foreign matter."
ANTIC, September, 2010
Back to Articles Index
Back to Home Page
Copyright © 2011 by ANTA. All rights reserved