Articles Index/In Memoriam, Pets
Posted 06/12/10
In Memoriam ~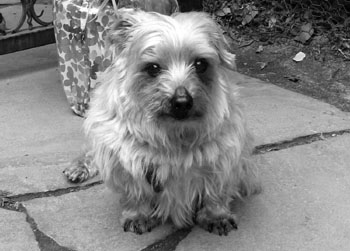 Yarrow's Mill Stone
"Skip"
August 7, 1994 – June 8, 2008
Our life together began in Joan Read's living room at Chidley in Oyster Bay, NY, Thanksgiving week, 1994.
A happy and fearless little fellow, Skip charmed and made friends with everyone who knew him. He was an especially tough little guy with a lot of presence – a lion in miniature. With all of his expressive yodels and gargles, he made certain that everyone noticed him. Ever social, he delighted in marching up the front steps and into people's houses.
When he was eight, we found him a beautiful Standard Poodle puppy, Suzette, whom he protected and taught many useful skills including how to lift her leg. In exchange, she provided the aging Skip with a new found virility and, in the final year of his life, she vigilantly watched over him and became his fierce protector.
He spent many happy hours in the kitchen campaigning for meals; in the hardware store yodeling for treats; on East Hampton's Main Street stalking and attacking the giant Elms, and in his beloved garden covered with dirt … ever trying to go to ground.
ANTIC, March, 2009
Back to Articles Index
Back to Home Page
Copyright © 2010 by ANTA. All rights reserved