Articles Index, In Memoriam, People
Posted 04/25/07
In Memoriam ...
Wayne Palmer
ANTA Remembers Board Member Wayne Palmer
Wayne Palmer died at the end of September after a long, courageous battle with cancer. We will miss his infectious smile, his dedication to Norfolks, and his commitment to ANTA. With his life partner, Tony Gabrielli, he made the Domby prefix an important part of many Norfolk pedigrees and he was instrumental in guiding many new Norfolk owners to success with their dogs.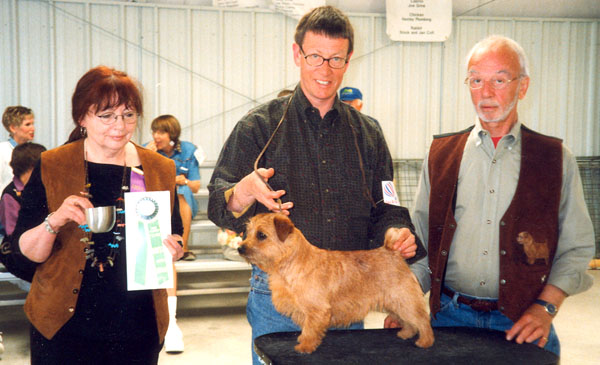 Judge Franzi Corman gives top honors to Domby's Rosa Dartle at ANTA's 1995 Santa Fe match. Breeder owners Wayne Palmer and Tony Gabrielli look on.
Born in Galt, Ontario, Canada in 1944, Wayne became a competitive figure skater at age 10. He was a successful ice dancer in Canadian National Figure Skating competitions in the 1960's and in 1966 he placed 12th in ice dance competition at the World Championships in Davos, Switzerland.
In 1968 he moved from Toronto to Buffalo, NY, to take a full time teaching job with the Buffalo Skating Club. While living in New York, he met Tony Gabrielli, an art-gallery owner and teacher who was to become his lifelong partner.
While living in Cleveland Heights, Ohio, the pair began breeding Norfolk Terriers. Subsequently moving to Cricket Hill Farm in Russell Heights, they hosted two highly successful ANTA matches while expanding the influence of the Domby breeding program.
Wayne dedicated himself to developing his skills and expertise as a show groomer and owner/handler in the ring. He enjoyed the spirit of competition and excelled at showing the Domby dogs. He always looked like a natural and remained a gentleman in and out of the ring. He will be missed.
ANTA extends sympathy to Wayne's mother and sister, Ada and Cheryl Palmer, and to Tony and the Domby dogs. Donations in Wayne's memory may be made to The Canine Health Foundation, Friends of Norfolk Terriers, DAF, c/o Carol Falk, 13 Moulton Rd., Peabody, MA 01960-3752.
Canine Health Foundation Acknowledges ANTA Gift
The CHF has acknowledged ANTA's $1500 contribution with the assurance that it will be restricted to the Norfolk Terrier Donor Advised Fund in seeking a cure for Mitral Valve Disease.
ANTIC, December, 2006
Back to Articles Index
Back to Home Page
Copyright © 2007 by ANTA. All rights reserved