Articles Index/In Memoriam, Pets
Posted 05/19/98
IN MEMORIAM ...
CH. POOLES' IDE PORK PIE
1987 - 1997
"Macho." This word aptly describes Ch. Pooles' Ide Pork Pie, my first Norfolk champion -- and he was a champion in every sense of the word.
Thanks to Greg Siner, Porky became part of our household at the age of ten months, just before Christmas in 1987. Affectionate and exuberant, he fit right into our family. The following summer I learned that Porky's favorite activity was swimming in the ocean (preferably in Maine).
Second to that was watching TV where he frequently became so enthusiastic that he would jump on the screen and change channels, or shut the set completely off. (Westminister was, indeed, his favorite show!)
Porky was entered in many ANTA events, showing his true colors winning the Sweeps under Eileen Needham at the summer match in 1987.
This wonderful Norfolk was loved by all who knew him -- especially Betsey and Orville Petty who took him into their lives and cared for him these past two years. Pork Pie died peacefully this past December, surrounded by his affectionate caretakers. I miss him very much, but feel fortunate for the happiness he brought to his two families.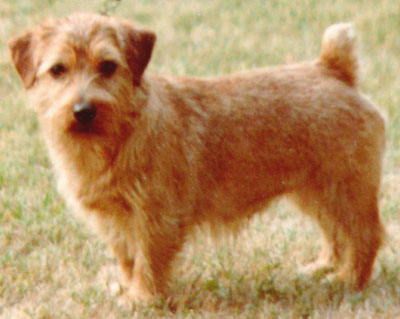 Vallie Beckwith
ANTIC, March, 1998
Back to Articles Index
Back to Home Page
Copyright © 1998 by ANTA. All rights reserved