Articles Index/In Memoriam, Pets
Posted 06/14/10
In Memoriam …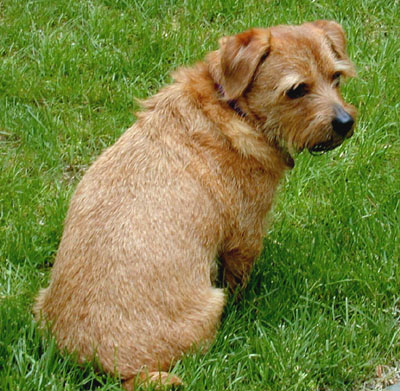 Monte of Elbow Rock
Monte meant more to me than you can possibly know. He turned out to be wildly intelligent. He was ornery at times, particularly in his younger years. He was with me and supported me when no one else would. He was at times tough as nails. At other times he was so very lovable. He was a terrier's terrier.
He spent the first seven years of his life with me in Pennsylvania where he touched so many people. It is no exaggeration to say that he was loved by everyone he met.
I would have people come up to me years after having met him and asking me how Monte was.
When we moved on to Ohio, he really came into his own. Here he was free of leashes and all the wildlife he could ever want to chase. He almost died from gallbladder disease. Two years ago, he went into right heart failure. With a multitude of four dollar Walmart prescriptions his last years were full of life.
He taught me how to grow old gracefully. He showed me how important it is to just shake things off and keep on moving. He did not slow down until a few weeks ago.
Edward Del Grosso
(Ed. Note: Monte died in mid-June at the ripe old age of 15 ½ years. He was a dog who had been re-homed with Ed when his first owners became ill and unable to keep him. How happily the story turned out. We appreciate Ed sharing his thoughts about this special little breed ambassador with us. You were a great dog, Monte!)
ANTIC, September, 2009
Back to Articles Index
Back to Home Page
Copyright © 2010 by ANTA. All rights reserved