Articles Index/In Memoriam, Pets
Created 11/17/98
IN MEMORIAM ...
CH. CHIDLEY MAGIC MARKER (1983-1998)
CH. YARROW'S JASMINE (1986-1997)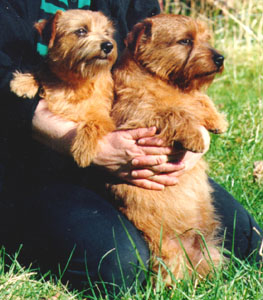 Pictured above in 1987, Jessie and Mark were the beginning of Landmark ... named when I landed Mark, a landmark event.
Mark was the top winning and top producing Norfolk of his day. He was Top Dog here at Landmark. At 8½ years he went to live with friends and retired to a life of ease in a family of his own where he reigned as the Royal he was. He died peacefully with both of his families at his side.
Jessie was, and always will be my number one Norfolk. She was my best friend, my soul mate, my joy. She changed my life so much for the better. There are no words to express how much I miss her.
I owe a lifetime of gratitude to Joan Read and Beth Sweigert for making these wonderful years possible.
Rest in peace sweet angels, until we meet again.
Franzi Corman Nidever
ANTIC, September, 1998
Back to Articles Index
Back to Home Page
Copyright © 1998 by ANTA. All rights reserved