Articles Index, In Memoriam, People
Posted 01/18/09
IN MEMORIAM ...
Kathleen Eimil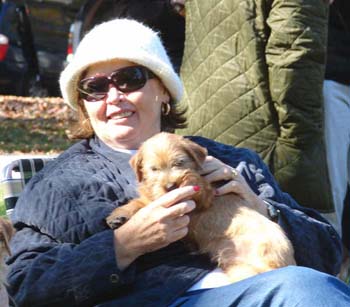 Sue Owen Photo
Kathleen Eimil at ANTA's 2007 Fall Festival
ANTA Mourns the Passing of Kathleen Eimil
The Norfolk world was shocked and saddened to learn of the sudden death of Kathleen Eimil on Friday, August 8th.
Under her Mayfair prefix, Kathleen had bred many wonderful dogs, starting with the exceptional littermates Jitterbug and Rock n Roll and continuing to the present. When word of her death reached her many friends, the universal reaction was to mention her generosity and willingness to share her considerable expertise with newcomers. She was scheduled to be our judge at this year's Fall Festival and we were eagerly anticipating having her with us.
In addition to being a long-time member of ANTA, she was a member of the NNTC and was one of the founders of the Middle Kingdom Alliance of Norwich and Norfolk Terriers ... an intrepid bunch of California fanciers. Kathleen has also been instrumental in the formation of a new Norfolk Club in Northern California, an effort which has taken place since the recent vote by the parent club to separate the breeds.
ANTA extends condolences to her husband, George, as well as to her family and her wide circle of friends. A service celebrating Kathleen's life was held in California on August 12.
ANTIC, September, 2008
Back to Articles Index
Back to Home Page
Copyright © 2009 by ANTA. All rights reserved