Articles Index/In Memoriam, Pets
Posted 04/22/99
IN MEMORIAM ...
CH. JAL-MAR'S KELLY OF KILLANE
When we got the call from Trish (Lussier-Forrest) that she was remarrying, moving and looking for a home for Kelly, we were at once delighted because we loved her and had her daughter, and nervous at the prospect of introducing an older bitch into the household. Particularly where our girls were so spoiled. We shouldn't have worried a bit, because once she settled in Kelly became "house mother" to us all.
When we finally finished work on the farm and took up permanent residence there, Kelly found her piece of heaven on earth. She was a farm dog through and through. She loved to hunt in the back field, root around the barn and bark at any and all animal sightings. She also loved her creature comforts like lying in front of the big kitchen fireplace and in the chair by the window. But most of all, Kelly loved her puppies. She was so happy to have her four girls with her. They would lay in a circle together and clean each other's ears and eyes. They all miss her as much as we do.
We lost Kelly this summer to cancer. It's amazing how quickly it took her. She was such a healthy and hardy dog, so strong right up to the end. But, she couldn't stop the ravages of cancer.
Kelly, for us, really embodied the best of this breed. It's dogs like Kelly that represent the heart and soul of Norfolk Terriers. She was never quarrelsome; she was utterly fearless and always game. She never gave us a minute's trouble; she moved in and took over our pack and our lives.
We are grateful for our time with her and grateful for the shared love on her last day. We get comfort from the fact that she did all her favorite things: ate ice cream, slept on the bed, went hunting in the back field û all of which made her bark and wag her tail on her very last day. What move can anyone ask for.
We buried Kelly next to her first love, Jigger. She was a great lady and we know she will rest in peace.
John and Pam Beale
ANTIC, March, 1999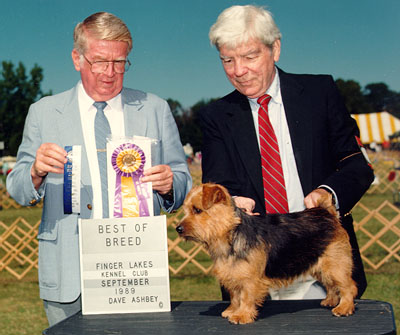 Kelly with the late Dr. Leon Lussier, before she came to live with the Beale's at Twin Brooks Farm.
Back to Articles Index
Back to Home Page
Copyright © 1999 by ANTA. All rights reserved