Articles Index/In Memoriam, Pets
Posted 03/08/06
IN MEMORIAM ...
CH. GINGER AND PICKLES O'SANDPIPER, JE
JUNE 12, 1991 -- SEPTEMBER 27, 2005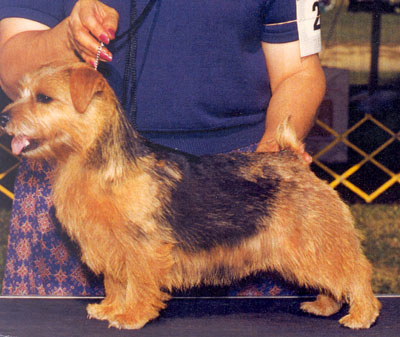 If Ginger had been male her name would have been "Hurricane" because it was during this intense storm that my husband and I brought her home from Massachusetts to New Jersey.
Ginger blended well into our Norfolk family which consisted of Jane Marple and Pork Pie, our two Poole's Ide champions. In fact, on our drive home -- she was just nine weeks old -- she jumped out of the laundry basket I was using to contain her in the back seat of the car and plopped her little self between the other two dogs where she remained for the entire five hour trip.
Ginger's breeder, Gale Young (then Studney), took her into the show ring for me where she won her championship in just a few shows. Ginger finished her title at Hatboro with a 5-point major over 15 other bitches! The following winter at Westminster, Jack Simm honored her with an Award of Merit.
This little Norfolk was bright, mischievous, and had a superb temperament. Ginger displayed this wonderful, affectionate nature especially as a mother. She had several litters, one of which consisted of five pups after being bred to Ch. Nanfan Culver.
Ginger was mother, grandmother, and great-grandmother to a number of champions, some of which are now in the show ring.
Ginger became addicted to lure-coursing and in spite of my putting her in increasingly higher ex-pens she would leap out and run toward the coursing. The next thing I would hear was someone shouting, "Loose dog!" and I would immediately know who it was.
Ginger also loved going to ground and she easily earned her Junior Earthdog title. Always ready to go in the car, for a walk, or wherever I was headed she was eager, affectionate, extremely loyal and never quarrelsome. She was my foundation bitch, a dearest friend, always giving comfort to me when I needed it. Physically, she was pure joy, and even at the age of 14 years she was a sound and efficient mover.
I sorely miss this little black and tan girl who has crossed over the Rainbow Bridge. I celebrate her life and all those special, happy moments she brought me. May she find lots of rats to chase and be peaceful in those Better Hands that hold her now.
Vallie Beckwith
ANTIC, December, 2005


Back to Articles Index
Back to Home Page
Copyright © 2005 by ANTA. All rights reserved