Articles Index/In Memoriam, People
Posted 02/22/98
IN MEMORIAM
GEORGE BRAGAW
November 1930-November 1997
We lost a good friend last year. I can just see Big George and Joan Read sitting at her kitchen table talking and laughing together, as I like to imagine them now. George came by Norfolks honestly through its one great historian, Joan Read. He and Joan were good Lab buddies and he actually knew Joan before Norfolks, when the terriers at Chidley were the prick-eared variety. He never coveted a Norwich, but was really taken with the Norfolks. He always told the story of watching the breed ringside (when it was one) with a friend who bred Skye Terriers. His friend said, "I really like this breed." George asked, "Which ones, the prick or drop?" He was astonished to find his friend preferred the prick-ears.
George was a reliable sounding board for Joan as she wrote her definitive book on the breed, The Norfolk Terrier. They conferred regularly over the telephone and George spent many weekends in Oyster Bay helping Joan sort out her ideas. By that time George had a Norfolk Terrier of his own, "Lil Jo", who was his constant companion. He told the story about bringing a Labrador up to the front seat of his truck when he felt the back was too cold, and "Jo-Jo" giving him the evil eye. "That is her seat, Linda, and she was really angry with me." I don't think she ever had to share her seat again until George's wife Mary came along. Jo-Jo was only too happy to share with Mary who won George's heart when she presented him with a pedigree of Jo-Jo that went back to the beginning of time! Mary had actually developed a computer database of all Jo-Jo's ancestors.
George was there with Joan and all of us when we started ANTA, giving words of encouragement, lending support at those first matches, and even judging a few for us. He was a founding member of the Potomac Labrador Club whose specialty entry is now so large, it takes two days to judge. He was serving as its President when he died. George was a well known retriever judge and had a good eye for all breeds. He knew what he liked in a Norfolk Terrier...plenty of spunk and lots of drive! When I used to whine to him about my own Norfolks scrapping with each other, he'd say, "But they're terriers, Linda." Jo-Jo was certainly nothing like a Labrador, but he adored her terrier temperament.
I miss my friends, Joan and George. I miss the many good times we shared together just talking dogs. They both told lovely dog stories, mostly about Labradors. George was an avid wildfowl hunter and never without a Lab he'd trained himself in his boat or duck blind. In later years, a small brown terrier could be seen at his side riding shotgun in his johnboat, or running alongside in the harvested cornfields on Maryland's Eastern Shore.
Linda Plummer
ANTIC March, 1998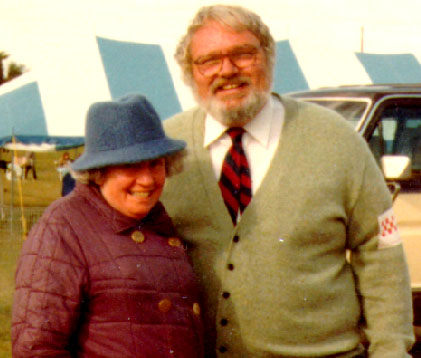 Joan Read and George Bragaw
Back to Articles Index
Back to Home Page
Copyright © 1998 by ANTA. All rights reserved