Articles Index, In Memoriam, People
Posted 02/01/11
David Miller, Long-Time ANTA Member/Supporter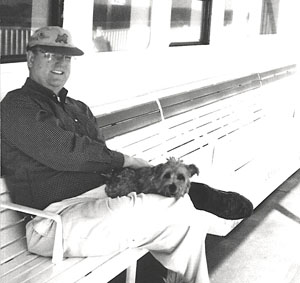 David Miller

David Lawrence Miller died on June 17, 2010 during a family holiday. David and his wife Paula were longtime ANTA members and Norfolk owners. Their support of our breed and our club could serve as an inspiration to us all.
In his life away from dogs, David was a municipal bond attorney at the national law firm of Kutak Rock in Washington, D.C. He was a dedicated supporter of the Northwest Settlement House that provides essential services to Washington' least fortunate residents. But for all of that he was always ready to lend a hand at ANTA events or wherever Norfolks needed him.
David's beloved Norfolks never won a Best in Show, but David was happiest with 'personal Bests' and gave his dogs (and everyone else's too) every opportunity to challenge themselves to be the best they could be. Funny, he had the same expectations of people. Any dog related project was fair game for David's talents and he was always able to design and build a contraption to make an idea a reality. Many ANTA 'folks and folks will remember him as the lure coursing operator at some of our events.
It would seem that the word "No" wasn't part of David's vocabulary. He was always ready, willing, and able to take on a challenge, whether it be with a less than perfect Norfolk, adverse weather conditions, or miles of driving to set up a lure course for our enjoyment. He dug earthdog tunnels (he always carried a spade), arranged parties, and ran his dogs in earthdog events.
David 's funeral was attended by the brightest and best of the D.C. bar, but his Norfolks were well represented by photos and flowers. Paula on several occasions spoke of David's 'other life' and his dedication to ANTA. One can't help but think of the quiet, selfless, generous, and enduring contributions he made to our dogs and our club.
RR
ANTIC, September, 2010
Back to Articles Index
Back to Home Page
Copyright © 2011 by ANTA. All rights reserved