Articles Index/In Memoriam, Pets
Posted 09/02/08
IN MEMORIAM ...
CANADIAN OTCH Cortaillod CAMELOT OF ISLAY AMCDX, RN, TT
February 19, 1996 -- March 16, 2008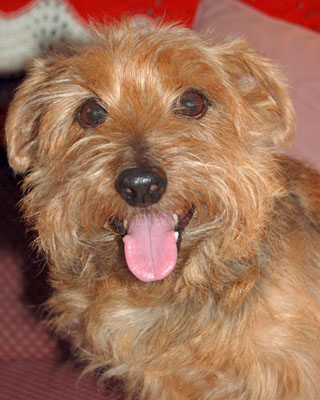 He came to me as a four pound, eight week old, adorable little Norfolk. He learned about life through me, through the eyes of his surrogate mother, Arthur, my Labrador, and then his instinct. It made for an interesting mix. There was never a boring moment with this wonderful little dog. He was so aware of everything in his world, whether it was a car parked where it wasn't usually parked, or a poor unsuspecting cat under a car. On that occasion I was unsuspecting, also, but was quickly reminded to pay attention to my surroundings also.
From Arthur he learned that he could share food, take a bone from his mouth, and steal a toy. Although this wonderful Lab towered over him and outweighed him by over 60 pounds, he rolled on his back and let Alvin have his way. Alvin tugged on his flews, pulled his ears, and just generally used Arthur as a personal plaything. Arthur played tug of war with Alvin, and let him win. This wasn't necessarily good in the sense that Alvin thought all dogs were like this, but he recognized their body language or a low growl and moved off right away.
He did his obedience happily for the most part until those times when his ideas differed from mine. On those days, it was a battle which was often won by him. Anyone who has owned and trained a terrier knows that they have their own agenda in life. Nevertheless he did it. He achieved everything I asked of him.
He entertained his audience, both from the ring and the stage when he did six shows as Toto in the Wizard of Oz. During intermission he was adored by kids and adults alike who marveled at this little dog that was unceremoniously scooped up by a flying monkey. He did initiate the Dorothy's by peeing on them until he had so many rehearsals under his belt that it was no longer a worry for him, or them!
Alvin was adored and loved so much by me. Up until the last few days he was a fighter. I would like to think that I gave him some extra quality time with some much enjoyed food. His weight went up substantially as he was totally catered to.
I know that many of you will miss him with me and I thank you for your thoughts. He would like to thank you, too, for sharing his life and making it such a wonderful ride. Many people said that he was very lucky to have had me, but it was I who was truly blessed to share twelve wonderful years with Alvin.
Rhoda Holder
ANTIC, June, 2008
Back to Articles Index
Back to Home Page
Copyright © 2008 by ANTA. All rights reserved