Articles Index, In Memoriam, People
Revised 107/08/03
IN MEMORIAM
BARBARA S. FOURNIER, PIONEERING NORFOLK BREEDER AND FIRST ANTA PRESIDENT, DIES IN NEW MEXICO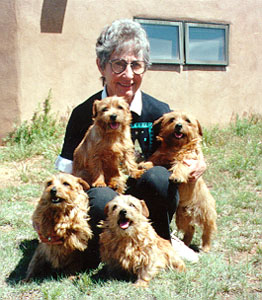 Bobbie at home in Santa Fe with "the kids".
The death of Barbara Fournier on January 23rd ended the chapter on what is possibly the most influential Norfolk Terrier kennel in US History. Although Bobbie had won her share of honors and finished many champions since obtaining her first Norfolk in 1950, her greatest contribution came in championing the breed, in showing them off when they were virtually unknown, in welcoming newcomers, and in writing the first book on Norfolk Terriers.
From her days in Bethany, CT, with a kennel chock-full of "Norwich DE" to her final days in her lovely Santa Fe home, Bobbie Fournier's name was synonymous with the breed she loved.
Once she left the wooded hills of Connecticut in the mid 1970s, Bobbie threw off her New England heritage and became a Southwestern belle. In judging assignments that took her around the world, her array of hats, silver jewelry and western wear stamped her as a woman who had embraced the culture and heritage of the American West.
Bobbie was ANTA's first president and hosted three of our Club's events: in May of 1995 at a pivotal time immediately following the death of Joan Read; in 1997 when, although she was suffering from kidney disease and confined to a hospital bed, she nevertheless opened her home to ANTA, and again in 1999. This time, she not only welcomed guests into her home, presided at the Club dinner, and oversaw details of our match, she also managed to judge Best in Show at Saturday's all breed show in Albuquerque. This, even though she was receiving dialysis treatments several times a week.
Although she had greatly limited the number of Norfolks she kept in Santa Fe, her home was designed to be both pretty and functional. It accommodated a lifestyle that was divided between travel to far-flung judging assignments and serving as a haven for visitors from home and abroad.
When Bobbie issued her frequent invitations to come to Santa Fe for a visit, her many friends weren't kidding when they accused her of never being home! Judging assignments in locations as diverse as South Africa, England, and Hawaii kept her frequent flyer miles accumulating. Somehow, though, she managed to accommodate more than a few travelers in between those judging assignments.
A quick trip to the store in Santa Fe could take hours as Bobbie greeted the scores of people she knew along the route, and then stopped to introduce herself to any stranger who happened to be shopping nearby.
Barbara Fournier will be missed and ANTA extends sympathy to her niece, Holly P. Bostwick, and her family, and to her many friends, worldwide.
Fortunately, the Bethway name lives on in the pedigrees of many Norfolk … a lasting testimony to one of the breed's pioneers.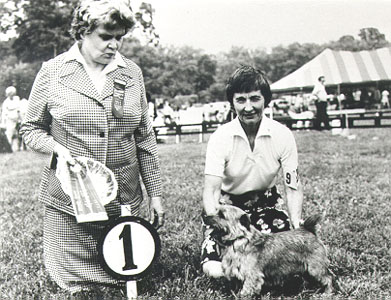 Barbara S. Fournier and Ch. Bethway's Aramis
SF
ANTIC, March, 2000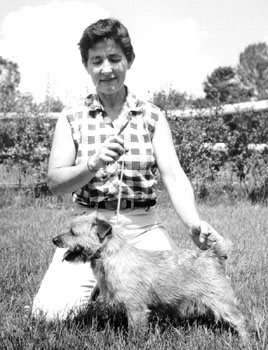 This photograph of Barbara Schilf (later Fournier) was taken in the mid-1950's and was sent to ANTA by Bobby's niece, Holly Bostwick. Holly is still sorting through and cataloging boxes of Bobby's papers, photos, and memorabilia a priceless history of Bethways Kennels and Norfolks in America.
ANTIC, June, 2003
Back to Articles Index
Back to Home Page
Copyright © 2000 by ANTA. All rights reserved