Articles Index/Norfolk Tales
Posted 06/18/10
HAPPY BIRTHDAY TO CARLOS!!!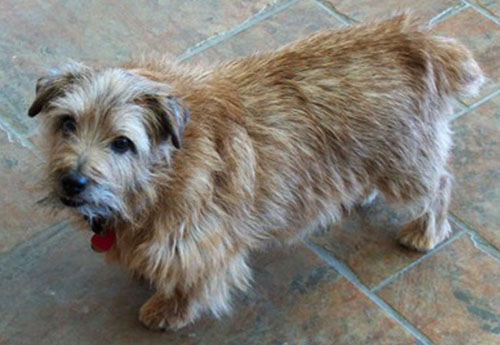 Ch. Bethway's Carlos
His "official" name is Ch. Bethway's Carlos, but around the house he's known as "Carlos" or sometimes just plain "Los". He might also answer to "Handsome", "Little Man" and "The Senior". In any case, February 10th was his 12th birthday, and he celebrated with his Aunt Holly (Bostwick) in New Mexico.
Barbara Fournier loved all her dogs, but Carlos was something special. Bobby has been gone for six years now, but Carlos still proudly carries the Bethway banner in retirement.
His well-deserved birthday dinner included some cooked chicken livers, with a few extra treats during the day in lieu of a cake.
Holly writes: "Though his eyesight and hearing aren't what they were, "Los" still sees the neighbor's dog when she goes through the yard (she's 15!) and raises a ruckus. When "Belle", our 20 month old Border Terrier, tells him that there is a squirrel stealing bird food or that the road runner (large bird) is walking by, he chimes in with full voice. His nose works well and his appetite is fine. With radiant heat in the floor and lots of dog beds throughout the house, "Los" finds a place to nap as often as needed.
"As he gets older, I think that he looks more and more like his grandmother "Biscuit". Put him on a lead or stand him on a table and he behaves just like the champion he is."
To that we say: Happy Birthday, Carlos and we wish you many, many more!

ANTIC, March, 2006
Happy Birthday Carlos ...
The word from Santa Fe is that Ch. Bethway's Carlos celebrated his 15th birthday on February 10. Bred, owned and loved by pioneering Norfolk breeder Barbara Fournier, when she died 'Los went to make his home with Bobby's niece, Holly Bostwick. Happy birthday, buddy, and keep on chasing your Border Terrier girlfriend ... it'll keep you both young ... and keeping track of you will give 'Aunt Holly' something to do in her spare time!
ANTIC, March, 2009
Back to Articles Index
Back to Home Page
Copyright © 2010 by ANTA. All rights reserved