Articles Index/Grooming
Posted 06/13/10
THERE IS MORE TO DO IN FLORIDA THAN HAVE FUN IN THE SUN ...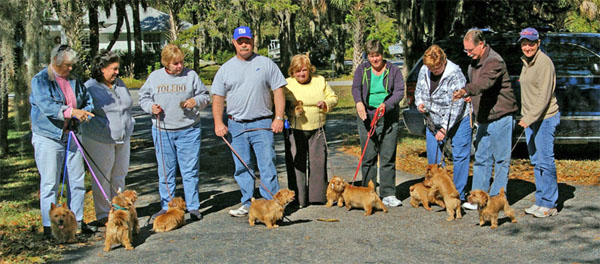 Jim O'Brien Photo
Pictured from left to right: Bridget Smith, Deb Roberts, Sue O'Brien, Steve Roberts, Lorraine Comi,
Beth Jernigan, Karen Artman, Jay Jernigan and Heidi Evans.
These happy Norfolk owners have been meeting bi-weekly in Sarasota, FL at the home of Sue and Jim O'Brien for a dog grooming session. Some weeks there are three participants ... other weeks up to nine or more.
The sessions are informal and new groomers get special hands-on training from Sue O'Brien and Heidi Evans. According to Lorraine Comi, the day is often 'interrupted' by lunch at a nearby restaurant. While most attendees are from the Sarasota area, some come from as far away as Boca
Raton and Ocala. Sounds like fun!
ANTIC, March, 2009
Back to Articles Index
Back to Home Page
Copyright © 2010 by ANTA. All rights reserved