Articles Index/Agility
Posted 06/14/10
The agility dogs of Florida (from left to right) Jip, Toby, Lucy and Darcy ... belonging to, respectively, Heidi Evans, Sue O'Brian, Charlene Bisordi and Annette Haile.
We are mixing it up a bit in Florida with some ANTA members and a few friends all of whom are interested in broadening our horizons. A few months ago we took two obedience classes. Now we have moved on to agility. The dogs love it and the handlers are into the fun with each other and the dogs. And ... our trainers are full of compliments!
Sue O'Brian
ANTIC, September, 2009
Florida Group Gathers to Wish Winter Weather Away
By Heidi Evans
It may be hard to believe, but 2010 has been a tough winter in Florida as well as everywhere else in the US. So, when February 6th dawned a little warmer and the sun came out, we rejoiced!
It was a great day for a Fun Day in Sarasota. Sue and Jim O'Brien hosted a total of 33 human attendees with 48 dogs at their home. There were 32 Norfolks, 6 Norwich, and 10 other dogs of various breeds.
The fun started with an agility demonstration by Esther Newton and her Norwich Posey CD, MX, MXJ. Everyone was invited to take a turn on the agility equipment. There was also an above ground training tunnel that Jim had built for an introduction to earthdog. Some dogs took to it easily, while a few had no interest at all.
Lunch was a fabulous potluck with hot dogs and hamburgers and a variety of side dishes. There were too many great contributions to mention them all individually, but the standout was a Norfolk cake made by Susan Vielhuar.
Jim and Jeff Markey started with lure coursing, and all the dogs went crazy! Almost every dog that tries it loves it. And what fun it is to watch them go!
Stacy and Nathan Tucker conducted the flat racing, brought into the 21st century with Nathan using another lure coursing machine to tease the dogs into running. This replaced the upside down bicycle and it worked great.
Last, but not least, was the costume class. Susan's Nugget modeled several costumes and Miss Chanel, owned by Dottie and Ron Wynn from Orlando, showed off her finery. Bill and Pat Cunningham's Katie really entertained us with her beach ball soccer.
There was a raffle with great prizes and all the money collected went to rescue. All the dogs departed with a new toy ... happy and all worn out!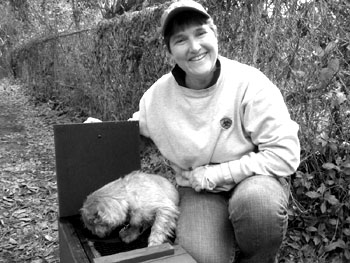 Heidi at the earthdog tunnel ... with an earthdog.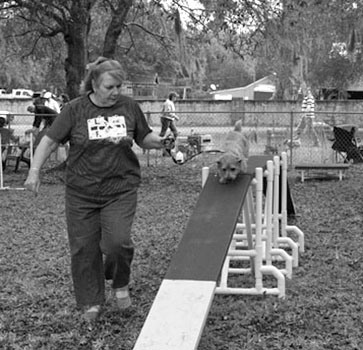 Sue O'Brien with a budding agility star.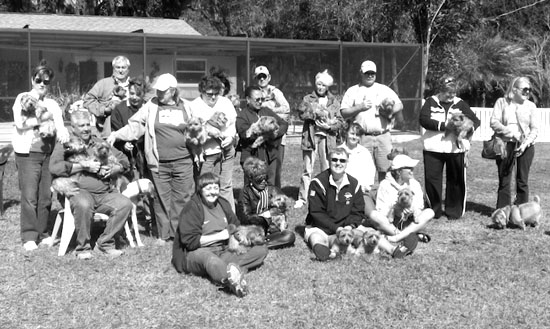 The group ...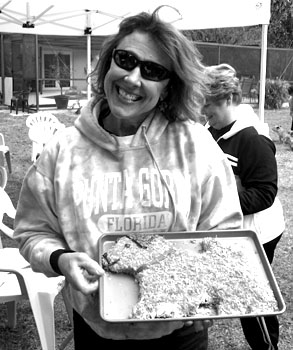 Sue Vielhuar with everyone's favorite dessert.

ANTIC, March, 2010
Back to Articles Index
Back to Home Page
Copyright © 2010 by ANTA. All rights reserved