Articles Index/Norfolk Tales
Posted 07/02/00
FAITH GOES TO KINDERGARTEN AND EARNS STRAIGHT A'S ...
Given any "B" day, you can come to Camden Elementary School, walk into room 5 and see 20 kindergarten children happily going about their daily lessons with Faith, the Norfolk Terrier, busily keeping tabs on everyone.
Faith is Bancroft's Hunstanton Light (Ch. Max-Well's Blizzard x Ch. Max-Well's Wild Flower, CDX, SE) co-owned by Carl Schrader and me. She earned her CGC and was awarded her Therapy Dog certification in July of 1999. That fall, she began working in my kindergarten classroom as a Therapy Dog.
My classroom is inclusive – meaning I service both regular and Special Education students at the kindergarten level. Faith spends most of her day being petted, crawling into laps, giving kisses, cleaning up under the snack table and playing with her toys. Her main purpose is the half hour we spend, one on one, with a Special Education student. The six students in this program have to earn the privilege of meeting with Faith. They must exhibit self-control, successfully complete their given tasks, use good manners and must be kind and show respect to their peers and teachers.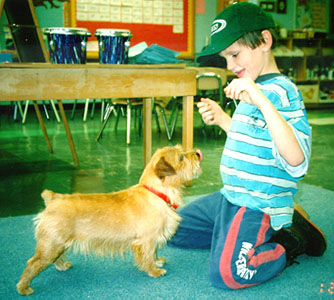 Together we take walks, we groom, practice tricks, feed, water, talk and play … all in the name of developing anger-management skills. The student takes home a copy of our Pawprints Press, a newsletter that briefly describes the activities the child shared with Faith that day. We incorporate writing, reading, math and art in the newsletter.
So far this experiment has been quite successful. All the children anxiously await the next "B" day. If this one little red dog can help to bring about improvement in just one child's behavior and encourages that child to make better choices and become a happier person then it is definitely worth all the time and effort. Faith, too, has grown and matured during this time; learning to deal with many different personalities and situations, to handle the various moods of her new friends, and to adjust to the hustle and bustle of an active Kindergarten class. She is as eager to come to school as the children are to see her.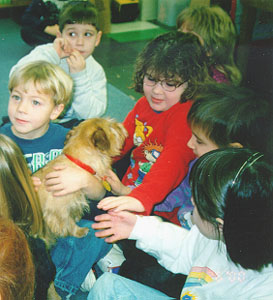 Peggy Metcalf
ANTIC, March, 2000
Back to Articles Index
Back to Home Page
Copyright © 2000 by ANTA. All rights reserved