Articles Index/Fall Festival… Then and Now
Posted 02/01/11
The Fall Festival … Then and Now
By Cathie Heimbach
Twenty-nine years ago, On October10, 1981, ANTA held its first Fall Festival at the Bedford (NY) Village Memorial Park. The event was organized by Joan, Peter, and Pru Read. There was a conformation match judged by Janet Farmilette (Mijan Labradors) and won by Jan Anderson's "Short Cake" from an entry of twenty adult dogs and nine puppies. Other events of the day were children's handling, racing, jumping, obedience, coat care, and ring presentation. A lot of activities for a single day!
Now in 2010 there will be no fewer activities but they'll be spread over two days. For the seventh year we will be at the Thomas Bull Memorial Park in Montgomery, NY. There we have a large covered pavilion, near-at-hand parking, and convenient rest rooms.
For Saturdays match there are usually 45 to 55 entries, including a Junior Handling class. We have our own catered dinner for 50 or so people on Saturday evening at an adjacent boat house. Introduction to earth dog, agility, and flat racing are ever popular with a large fenced in area for the races. No more chasing run-away Norfolks! Lure coursing always has a line of owners attempting to hold over-anxious dogs while waiting for their turns on the course.
Guest Speakers
Since 1995 ANTA has sponsored several educational seminars at the Fall Festival. They honor the memory of Joan Read, the leading force in the founding of ANTA. This year, John Parker, BVMS, PhD and Colin Parrish, PhD, both from the Baker Institute at Cornell University will speak on canine immunology, various vaccines, future vaccines, and the monitoring of the canine immune system response to vaccines. It is a not-to-be-missed presentation of great importance to anyone who owns a dog.
On Sunday, there will be a heart clinic to screen for mitral valve disease. Dr. J. P. Petrie, a board certified canine cardiologist, will be doing the tests. ANTA is pleased to subsidize the cost of each exam for its members. Because Dr. Petrie can only do 23 tests, it is important to sign up early in order to reserve a place for your dog. A registration form is included in the event flyer.
Over the years there have been many changes and additions to the Fall Festival … silent auctions, raucous live auctions, raffles, decorated pumpkin sales, home-made breakfast items, lure coursing, earth dog tunnels, agility, and most importantly many more people on hand year after year.

Still, the original intent of ANTA's Fall Festival – to educate, provide opportunities to socialize, and have fun – remains the same.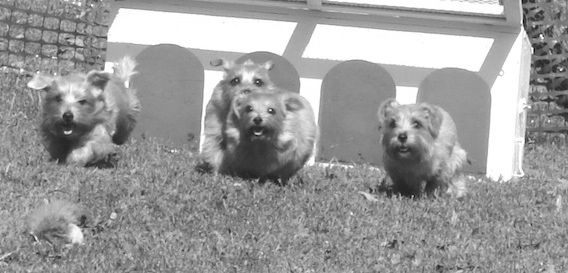 Sue Owen Photo
Racing to the Fall Festival? You betcha!!
ANTIC, September, 2010
Back to Articles Index
Back to Home Page
Copyright © 2011 by ANTA. All rights reserved