Articles Index/Agility
Posted 06/29/08
'CUTTER' PROVES HE HAS WHAT IT TAKES TO BECOME AGILITY STAR
By Ellen and Martin Feldman
Sandpiper's Cut to the Chase is a four year old male Norfolk who was acquired as a puppy from breeder Vallie Beckwith. He is every inch a terrier, with a sweet, eager-to-please disposition. He shares our house with our German Shorthair, Maggie, and with our two Maine coon cats, Skipper and Rosa.
When Cutter was two years old, the three of us began agility training with Thom Lambert of Warren, Maine, and subsequently added lessons with Barbara and Gary Simons of Bar Harbor, Maine. From the outset, it was clear that Cutter was having as good a time at agility as we were. As soon as we would bring out his canvas bag of training gear to go off to a lesson, he would be bouncing at the front door, his tail going full blast.
While it is standard practice in agility training to aim for a one-dog/one-handler team, we decided that both of us would train and compete with Cutter. This has been a success, and Cutter now works equally well with each of us. He mastered the agility equipment rapidly, but his handlers, being only human, require considerably more practice.
In the world of competitive agility, trials are sponsored and sanctioned by a variety of national organizations. At a trial, dogs and handlers compete in a series of runs on an open course each run lasting about a minute and consisting of a sequence of 8 to 18 obstacles.
After earning a designated number of qualifying scores, the team moves up one level, with each higher level of competition presenting the team with a more demanding course. One skill that becomes more and more important as a team moves up is the ability to have the dog work at a distance from the handler.
Most of the agility trails in which Cutter has competed have been sponsored by Canine Performance Events (CPE). In trials sponsored by this organization, teams may compete in any or all of seven categories of events, each with its own rules and type of course. Each category has five levels of difficulty, with Level 5 representing the highest level of expertise.
Thus far in Cutter's career, he has reached level two or three in each of the categories. The photographs that accompany this article show Cutter on course in the Canine Performance Events Nationals, a joint American-Canadian show that was held this past July in Bridgewater, Nova Scotia. At this show, Cutter was entered in six events. He earned qualifying ribbons in four of them, a performance which merited numerous handfuls of special treats.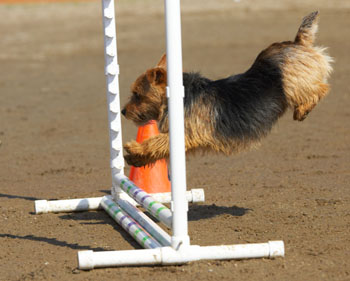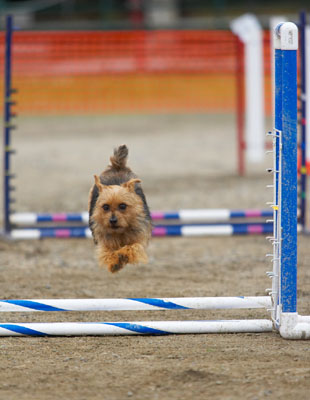 (Photo credit: Craig Lizotte Photography, Fredericton, New Brunswick, Canada.)

ANTIC, September, 2007

Back to Articles Index
Back to Home Page
Copyright © 2008 by ANTA. All rights reserved