Articles Index/Agility
Posted 05/03/01
Clipper's Excellent Adventures in the World of Agility
I first shared my experiences of training my Norfolk, Clipper, in agility last year when we were very new to this discipline. Since that time, we have progressed to the point where I wanted to try competing in a trial.
Fortunately, Clipper and I are able to attend weekly practices, so I entered a match last fall to see how he would do in a competitive setting. I was pleased with his overall run, though he stepped on the broad jump, which disqualified him. I then entered a two-day trial in October. Clipper ran very well the first day, making it over the broad jump and qualifying with a clean run! I was very proud. On the second day, he was a bit more distracted by smells, especially on the pause table. He also stepped on the broad jump again and did not qualify. I figured that one qualifying score out of two was great for our first trial and started to look for another trial to enter.
I entered Clipper in a three-day agility trial in Portland, OR, in January and made the trip with five other people. It was a humbling experience to say the least! Clipper never finished the course the first two days because he was over course time. On the third day, we finished the course, though the timer's whistle blew before we finished the last obstacle. Clipper was having "nose" problems! The show was indoors in a loud and noisy hall that echoed with a constant drone of background commotion. Clipper was stressed and distracted by all the smells and lost most of his time because he had his nose to the ground. He also went out to the edge of the ring to visit people watching. (Typical Norfolk!)
I obviously still have a lot of work to do, but we had a fun weekend and I enjoyed the opportunity to watch some of the best Agility teams in the sport - some members of the USA World Agility Team were competing at this trial. There were no other Norfolks represented, so if anyone else out there is training or competing with Agility with their Norfolk, I would love to hear from you.
(Note: ANTIC, too, would like to hear from you if you are participating in any performance events.)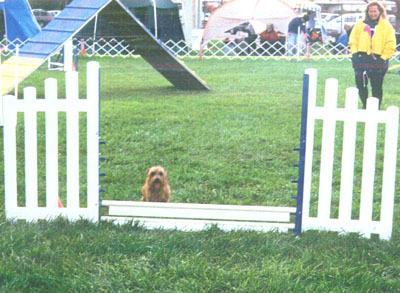 Clipper clears the high jump.
Sandra Healey
Shealy@itd.state.id.us
ANTIC, March, 2001

Back to Articles Index
Back to Home Page
Copyright © 2001 by ANTA. All rights reserved