ArticlesIndex
Revised 09/17/98
ANTA MEMBERS HELP CREATE ATLANTA TERRIER CLUB
A group of terrier owners who wanted to make sure the full potential of the terrier could be realized in the Southeast got together and formed the beginning of the Atlanta Terrier Club. The consensus was to pursue all activities that terriers can do and we focused on conformation, obedience, agility and earthdog to begin with.
On February 7 we held our first all breed match which was very well attended on a cold, dreary day. Members Sue and Vickie and their husbands, Carl Schrader and I organized and held an introduction to earthdog test. Carl had given a talk to the club a couple of weeks before and many members were excited about introducing their dogs to the rats and tunnels. Some of them had dogs that caught on quickly to the idea of working the rat and scrunching through the liners and hopefully they will be the members who will help in the process of becoming sanctioned by AKC.
We had three rats that had been donated to us by a local Jack Russell Terrier club along with a neat little wire cage that could be dragged and rolled. We used a rat in this cage to introduce the terriers to the rat and encourage them to paw at it and bark. Some dogs had zero interest and a few went nuts; but most were somewhere in between. After the session with the rat, they went over to Carl who stuffed them into a six foot liner whether they wanted to be stuffed or not. Carl believes if you don't give them a choice, they'll figure it out in a couple of times.
There was a Cairn and a Wire fox who turned into little maniacs they loved it so much; and I think Carl enjoyed working with the variety of breeds. I counted 13 breeds and about 30 terriers plus a couple of Dachshunds. We spent most of the time on the introduction but at the end we put three six foot sections (2 right angles) together and let those who wanted to try that configuration have the opportunity to do so. A few of the terriers seemed like naturals as they raced through the tunnels to find that rat.
A real Introduction to Quarry and Junior Earthdog match was held on April 9 in Perry, GA, in conjunction with the Peach Blossom cluster. The day turned out to be more of a familiarization than an actual match, but it was a beautiful, cool, sunny day and everyone had fun. Carl Schrader ran the Intro to Quarry and Kim Markle, a newly qualified AKC judge, ran the Junior Earthdog.
We had over 50 participants which was about twice what we had at our February match. Two months ago, most of the officers of the ATC had never been to an earthdog event and didn't know what happens at them. By the time of our match, some of them had learned enough about it to help beginners get interested in the rats and go through the six foot warm-up tunnel. They are amazed at how quickly some of the terriers catch on and advance from Intro to Quarry to Junior Earthdog in one afternoon. Peach Blossom Cluster organizers were thrilled with this new event and want to have it again next year as an AKC sanctioned event.
Marjorie Hubbard
ANTIC, June, 1998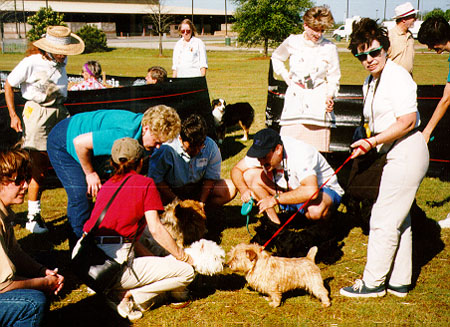 Faith Schrader introduces Oliver to a fellow earthdog competitor.
Back to Articles Index
Back to Home Page
Copyright © 1998 by ANTA. All rights reserved