Articles Index/ANTA
Posted 07/06/05
2005 PROMISES TO BE A BIG YEAR FOR ANTA ... IN A WORD, "WAHOO!"
For some reason, the word "Wahoo" has entered the celebratory lexicon in the dog world. As in, a new champion, "Wahoo!" A new title, "Wahoo!" A great effort, "Wahoo!"
I have no idea where this came from and maybe it's confined to the Northeast but after hearing about ANTA's plans for 2005, it seems like a great big "Wahoo ANTA!" is in order.
We are beginning the year with a gathering in Florida on March 16th. This match, hosted by Heidi Evans, is a first for the Sunshine State, and it will be covered fully in the next issue of ANTIC. Our thanks to all involved in planning this event.
On April 16th, we will have a fun day and health clinic in Centreville, MD. Hosted by Dr. Marion Shaw, this marks an ANTA return to the Mid-Atlantic states in April. How nice it will be to welcome Springtime in this manner.
Plans for the Fall Festival in October are well underway, and we look forward to having Bee Read Ege as our judge. It will be a meaningful and fun event with lots of activities in celebration of ANTA's 25th year. Carol Falk and Lori Pelletier will present the Joan Read Memorial Lecture and we all look forward to Cathie Heimbach's meticulously planned weekend.
Also on the horizon is a new ANTA Pedigree Book, and further information will be released as plans take place to issue our latest publication.
In addition to all the "official" ANTA activities, we continue to see more and more of our special terriers in other venues, thus affording all of us a chance to meet, mingle and ... yes ... say "Wahoo Norfolks!"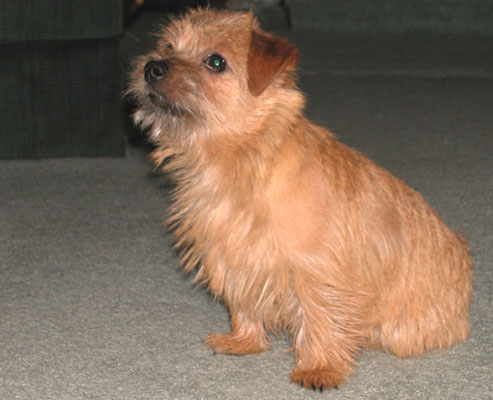 Karen Erling's Kaia is thinking about all the upcoming ANTA events!
ANTIC, March, 2005
Back to Articles Index
Back to Home Page
Copyright © 2005 by ANTA. All rights reserved