Articles Index/Norfolk Tales
Posted 02/01/11
And the Winners Are …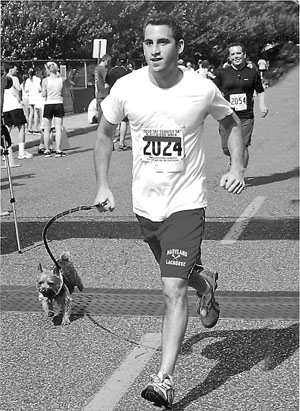 In case you're an Elvis fan … rest assured that he is alive and well and winning races with his favorite human partner, Neil Shenkman.
Elvis (Ch. Fox Hill's Good Things x Abbedale's Penn Oak Condeleeza) is a three-year old Norfolk owned by Martin Shenkman and his wife Patti Klein. Shenkman, a lawyer and CPA, has authored many books on finance and Penn Oak Love Me Tender (AKA Elvis) once graced the cover of CPA magazine.
Shown crossing finish line at the end of a 3.1 mile race in their hometown are the winners in the (human) 19-24 year old age group with a winning time of 43 minutes 23 seconds.

ANTIC, September, 2010
Back to Articles Index
Back to Home Page
Copyright © 2011 by ANTA. All rights reserved