Articles Index/Earthdog
Posted 05/20/04
Getting Ready To "Go Git 'Em" -- AKC To Celebrate 10 Years of Earthdog Tests
The Pocono Earthdog Cluster will be held from Friday, June 18 to Monday June 21 at Frey Farm in Moscow, PA in celebration of 10 years of AKC Earthdog tests. Friday's trial will be sponsored by the West Highland White Terrier Club of America, while the Lackawanna Kennel Club will sponsor Saturday's and Sunday's events. The American Fox Terrier Club will be in charge of Monday's trial. More information on these events can be found at http://www.lackawannakc.org.
On October 4th, the Cairn Terrier Club of America will sponsor the National Earthdog Test at Village Green Farm in New Jersey.
In addition to these earthdog trials, there are other events around the country where you can try your Norfolk's instincts to "get that rat!" Details of upcoming earthdog trials can be found at http://www.earthdog.info, which is Jo-Ann Frier-Murza's website, and at the AKC website, http://www.akc.org.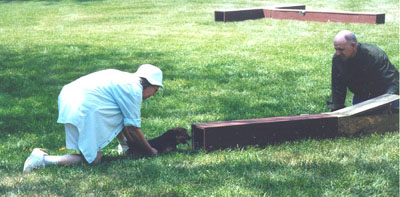 Introduction to rats and the tunnel is first done above ground.
Earthwork is something that most Norfolks enjoy once they are introduced to the "game". Not all dogs develop an interest at an early age, and training sessions should be kept short and fun. Earthdog Ins & Outs by JoAnn Frier-Murza is an excellent resource.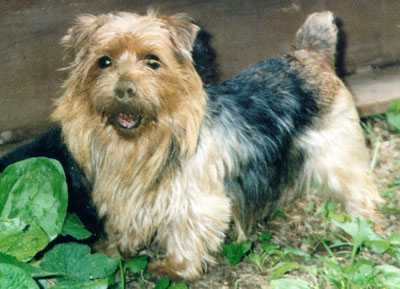 Real earth dogs are not deterred by dirty noses and mud in their mouths!
ANTIC, March, 2004
Back to Articles Index
Back to Home Page
Copyright © 2004 by ANTA. All rights reserved