Articles Index/Agility
Posted 09/09/05
AGILITY MENTORSHIPS AVAILABLE AT ALL-TERRIER AGILITY TRIALS IN PENNSYLVANIA
If you are an experienced agility competitor who would like to be helpful or a newcomer who is totally confused and just a bit afraid to jump into competition Sassie Joiris has organized a mentorship program for people attending the all- terrier agility trails in Kimberton, PA next Fall.
These trials are to be held from October 4 to 7 and they precede the Montgomery County Kennel Club show on Sunday, October 9. In addition to agility, there is also an all-terrier obedience show held on the Kimberton fairgrounds on October 6.
If you would like to be a mentor, or if you are a novice competitor who would like to be assigned a mentor (or, if you are simply interested in learning more about the sport of agility) e-mail Sassie at Joiris@ix.netcom.com. She will match people up so that every interested competitor has a buddy!
Countryside Agility (www.countrysideagility.org) is the superintendent for the agility trials. Contact them for premium lists and entry information. These events will fill quickly, so entries should be sent in to meet the opening entry date.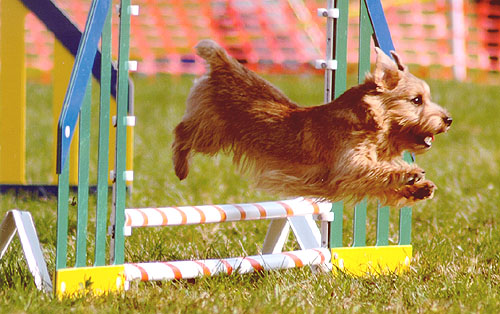 Sandy Kean Photo
Ch. Folklore's Free Spirit, NA, NAJ (aka Arlo) is jumping for joy at the thought of all the upcoming events he's going to participate in this summer and fall.

ANTIC, June, 2005
Back to Articles Index
Back to Home Page
Copyright © 2005 by ANTA. All rights reserved