Articles Index/Agility
Posted 02/23/04
NEWS FROM THE WEST COAST
NEWTON AND DARCH MAKE "NORFOLK WAVES" AND SHOW EXPERTISE IN A VARIETY OF ARENAS
On September 6th 12-year-old Arista Newton-Moore handled her Norfolk Terrier, Newton, at a Washington state-level 4-H agility competition and came away with a hard-earned red ribbon. Then, both Newton and his mom, Darcy, earned exciting wins on the weekend of October 18th and 19th.
Newton finished his UAGI (UKC agility title) his first weekend with four qualifying scores in four runs. This included scores of 191, 199, 200 and 200 which earned him two first and two second placements. Talented handler Arista has done all the training herself.
Meanwhile, 14-year-old Alison Newton-Moore was on Whidbey Island at the Dachshund Club's earthdog trials with Darcy. On Sunday, Darcy earned her Junior Earthdog (JE) title. (Mom Lorece credits Sue Ely with great insight and inspiration in this sport!) While we agree that Sue has great expertise, we suspect that she had an apt pupil in Alison great handling skills seem to run in this family.
With these wins, Darcy is now Zebedees Echoes of Mercy, JE, HIC, CGC and Newton is UWP, UAGI, UCD, UCH, Ch. Landmark Whistling Dixie, CGC, HIC. In case all these initials are a mystery the UWP before Newton's name is indicative of a United Kennel Club weight pull title. (Last year, Newton was the first Norfolk ever to win a UKC weight pull title with a personal best pull of 630 lbs. on rail.)
All we can say is "congratulations to all on a job well done!"
ANTIC, December, 2003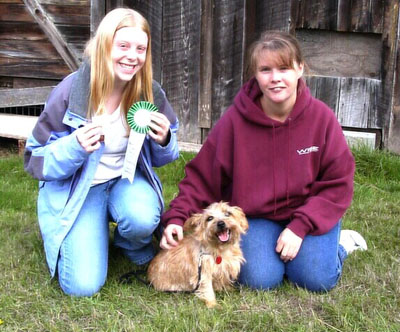 Allison, Darcy and friend celebrate a new earthdog title.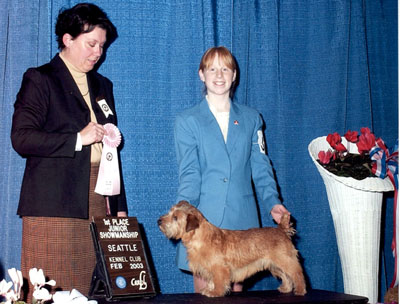 Arista and Newton winning ways at the Seattle Kennel Club all-bred show.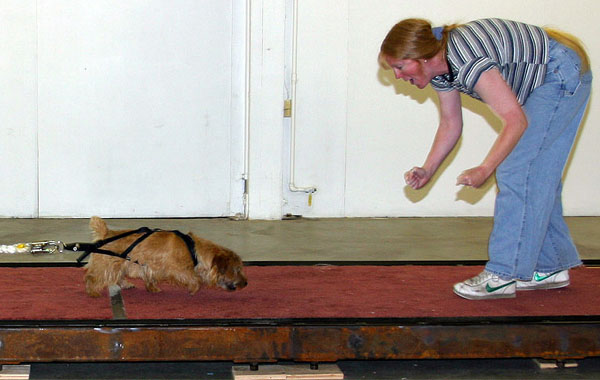 Weight Pull
Back to Articles Index
Back to Home Page
Copyright © 2004 by ANTA. All rights reserved