Articles Index/Agility
Created 10/24/00
Hooked on Performance Events: An Owner's Journey Into the World of Agility
Ch. Andover Miner Detail CD, ME, NA, CGC at 9½ years of age is doing it all. We don't have a tracking title yet, but hope to by the end of this year. Tracking rats could lead to a TD, right?
I had been involved in obedience with terriers since the `70's and loved it. I managed to put a CD on my first dog, a wonderful Westie. Then Mac, a Scottie, came along. What a dog! He was infamous at all the dog shows: What would that Scottie do today to entertain the crowd? We earned our CD in three consecutive trials. I was spoiled. After 13 more trials we earned a CDX. I wasn't spoiled any more. Mac was Utility trained but Utility turned into Futility. I was frustrated. He was ten years old, so we gracefully retired.
In 1993 our friends Rick and Jill Rourke called and asked, "Would you like to do some obedience training with a Norfolk?" I was willing to give this little red guy a chance. Ch. Andover Miner Detail (otherwise known as Jimmy Dean) bred by Cindy Vogels, arrived at the Sacramento airport on March 13, 1993. Not only was he entertaining (he loved to get up on the coffee table for an afternoon snooze), affectionate, adorable, and heart-warming, but he liked obedience and food; agility and food; earthdog and rats. What more could I ask for? I was totally smitten!
A Natural Student
What a pleasure it was to work with this joyful little Norfolk. The more I learned, the more Jimmy wanted to please. Motivation was not a problem, his waistline was. He would eat anything: string cheese, frozen peas, raisins, Cheerios. He loved to play with just about everything: squeaky toys, stuffed animals, other dogs, and me. I'm not so sure who learned more earning his titles, my four legged buddy or me.
Jimmy and I really excelled in earthdog events and he took to the tunnels like rats take to cheese. He earned his titles (JE, SE, and ME) in record time and was the first male Norfolk in the USA to earn his Master title. I became so enthralled with the sport that I am now qualified to judge Intro to Quarry and Junior Earthdogs.
Obedience was another story. I found that Norfolks are sensitive little terriers. Coercive techniques did not work at all ... positive training did! Jimmy did earn his CD, is Open trained and is working on Utility exercises, too.
Agility is the Best !!!
Then we discovered Agility! We may never go for that CDX and who cares when you can go running around an agility course doing all those jumps, tunnels and weave poles! Jimmy is currently working on his third leg toward his Novice Jumpers with Weaves title and has one leg toward his Open Agility title. This is the same little dog that couldn't even get up the A-frame when we first started. He's not the quickest dog on the course, but he sure is steady and enjoys every minute of it.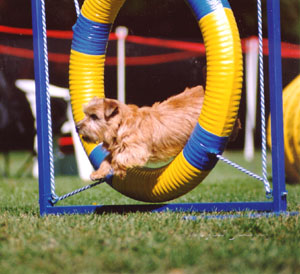 Jimmy Dean in Action!!!
Still More of a Good Thing
Well, I wanted more Norfolks of course. I'm currently doing conformation, earthdogs, obedience and agility with "the girls" Ch. Andover Petite Bon Bon, SE and Ch. Wonderwood Sugarpint Tuffy, JE. It is great fun to be training the dogs for what they were originally bred to do and I feel that it's important for all my Norfolks to have at least one earthdog title.
I adore our dogs and love working with them. If you are currently involved in any of the above disciplines or want to become involved, I'd love to share ideas. These little red terriers are the best thing that has ever come into my life. (My husband is very understanding.)
Laurie Rossi-Sherick
ANTIC, September, 2000

Ed Note: Laurie, her Norfolks, (and her husband) can be reached at sherick@nccn.net.
Back to Articles Index
Back to Home Page
Copyright © 2000 by ANTA. All rights reserved