Articles Index/Agility
Posted 08/29/02
OLLIE HITS HIS STRIDE ...
Ollie has found something new to keep him happy and busy .. agility. Although he has been successful at everything he has attempted (we are STILL in search of the final Master Earthdog leg), agility is his obvious favorite. He started agility training about a year ago, and has won the hearts of all his instructors with his willingness to try and his desire to please.
As agility is a "team" sport, as well as a fast one, the communication between you and your dog has to be quick and clear. We continue to develop this essential quality in our runs and hope to overcome our weak areas the broad jump and our not-so-fast speed. Ollie has earned his Novice Agility Jumpers with Weaves title and has two legs on his Novice Agility Standard title.
I was given the opportunity to own this very special dog through the NNTC Rescue and Rehome, chaired by Sue Ely. I have had him for four years now and Ollie and I have worked very hard to overcome his difficulties. I am proud to say that he has more letters after his name than a can of alphabet soup Domby's Oliver Twist, CD,CGC,CG,SE, NAJ.
Just imagine what you could do with your Norfolk!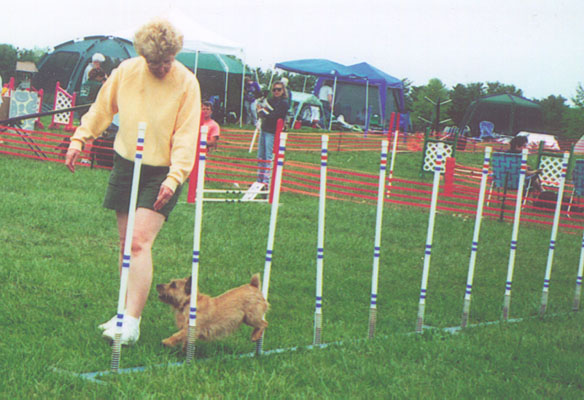 Ollie weaves ...
Peggy Metcalf
ANTIC, June, 2002


Back to Articles Index
Back to Home Page
Copyright © 2002 by ANTA. All rights reserved